Are you looking for Organic Soap?
You are in the right place! Here is the list of the Best Natural Soap. You get that easily available online.
Soap is used to stop the formation of bacteria. One of the simplest and most efficient ways to combat viruses is soap. It dissolves the lipid membrane that holds the bacteria together and renders it inactive.
Organic Soaps have healing powers. It keeps skin young and beautiful. Natural components like essential oils, spices, herbs, and herb essences provide organic products with their extra therapeutic power. They naturally act as cleansers and also have the ability to treat skin issues including eczema, acne, and even sunburn.
What's harmful in chemical-based Soap?
Toxins are significantly absorbed through human skin, according to recent studies. Additionally, as the skin is thought to be the body's largest organ, it is important to maintain a healthy lifestyle. Drinking filtered water and eating a balanced diet are only two examples. But you might want to think about switching to using organic soaps. If you want to reduce the number of hazardous substances that you and your family are exposed to on a regular basis you should switch your soap.
Rub onto the skin in gentle circular motions on the wet body
Lather up and wash off with water.
Use a soap dish to prevent melting. And ensure that the soap is drained after every use. You can even cut the soap into 2 halves and use it for a prolonged time.
Note: To check whether the product is really herbal or not, always check its ingredient on the pack before buying.
1. Organic Harvest Jasmine Bathing Bar (125g), 79 Rs
The Organic Harvest Jasmine Bathing Bar moisturizes the skin while gently cleansing it. Its contents are sulfate-free and certified organic, ensuring a regular amount of oil production throughout the day.
Ingredients used Organic Decyl Glucoside, Organic Glycerin, Sodium Cocoate, Sodium Palmitate, and Jasmine Fragrance.
 Features:
100% Organic soap
Hydrates nourish and calm the skin. Both the body and the mind can be calmed by the delicate floral scent
This sulfate-free soap provides vital skin-nourishing characteristics
Lathers well nourishes and softens skin
Suitable for both men and women
Ideal for all skin types
The ECOCERT certification recognizes this natural and organic product
It is free of animal products, mineral oil, parabens, Sulfate
2. Ancient Living Multani Mitti Luxury Handmade Soap - Set of 2 (100g), 340 Rs
Ancient Living Multanimitti Handmade Soap contains natural Multani mitti, also known as Fuller's earth, which is a highly absorbent natural clay with numerous benefits. Bathing can be a rejuvenating and refreshing experience.
Formulated with Multani Mitti, Orange essential oil, Palm oil, Coconut oil, and Lye.
 Features:
Moisturizes, Rejuvenate and Refresh the skin
Anti-aging qualities
Fights acne
Remove dead skin cells. Eliminates impurities and imparts an instant glow to the face
All skin types are advised
Free from artificial colors and fragrances, artificial additives, sulfates, or parabens
3. Truday Organic Bulgerian Lavender Soap (100g), 179 Rs
TruDay Organic Bulgerian Lavender is a Handmade and cold processed soap. It is rich in antioxidant vitamins. Produce a rich and soft lather, and soothes skin, while the natural exfoliants provide a deep clean and leave skin feeling noticeably softer.
Ingredients used Organic Coconut Oil, Organic Palm oil, Organic Olive Oil, Organic Castor Oil, Organic Shea Butter, Organic Rosemary Essential Oil, Lye, Water, Himalayan Salt, Organic Rosemary Extract, and Clay.
Ubtan, Activated Charcoal, and Vitamin C flavors are available.
 Features:
Natural, Organic Cold-processed 21 days cure Handmade 

Detoxify and moisturize skin

Deep clean and leave skin feeling noticeably softer

The natural fragrance of lavender essential oil provides a calming and soothing aromatherapy experience

It can be used as an effective treatment against acne

Cruelty-free, GMO-free

No synthetic fragrance, parabens and palm oil, dyes, DEA, or EDTA and
without preservatives
4. Bella Vita Organic Ubtan Plus Body Wash Bar (150g), 179 Rs
The Bella Vita Organic Ubtan Plus handmade Body Wash Bar removes tan and dullness while reviving skin. This natural soap bar pleasantly glides into your skin, tones the skin's surface, and contains a blend of naturally extracted components.
Ingredients used Kesar, Turmeric, Chandan, Multani Mitti, Coconut Oil, Shea Butter, Glycerin, Essential Oil blend, Ifra certified allergen-free fragrance, Sodium Palmate, Sodium Palm Kernelate, Sodium Cocoyl Isethionate, Sodium Chloride.
C Glow, Coalwave, Detox Body wash, and Chakra Cleanse flavor are available.
 Features:
Premium Natural products are used
Cleans your skin thoroughly
Ensures a glowing health
Gives a pleasant odor
Antibacterial and germ-prevention qualities are present in this body wash bar
It treats Scars and breakouts, eliminates dirt, pollutants, and dead skin cells, delays skin aging, and increases the suppleness of skin cells
Cruelty-free
Derma Tested
5. Nat Habit Cold Processed Soothing Sandalwood Soap (125g), 199 Rs
Nat Habit Cold Processed Sandalwood soap is handmade soap with all-natural ingredients. It maintains the natural oil of the skin without drying and smoothens, and brightens it.
Formulated with Pure Oils, Kokum Butter, Sandalwood & Milk.
7 flavors are available.
 Features:
100% Natural, Handmade
Preserves the natural oils of the skin. gentle, non-drying cleaning
Reduces tan and sunburn
Brightens skin and clears dead cells
Relieves irritated skin, softens hard, dry skin
Removes tan, pigmentation, and blemishes
100% Chemical Free, Preservatives Free
6. Rustic Art Organic Aloe Vera Soap (100g), 199 Rs
Rustic Art Organic Alovera Handmade Soap is specially made for delicate skin. Ensures thorough cleaning. It has a lot of antibacterial, antifungal, and anti-acne properties. With eucalyptus, basil, and lemongrass oils, this soap serves as your family physician.
Formulated with Certified Organic Oils of Coconut, Castor, Sunflower, Rice bran, Linseed, Sesame, Karanja, Olive, Jojoba, Theobroma cocoa Butter, Aloe barbadensis Leaf Extract, Palmarosa Oil, Lavender Flower Oil, Peppermint Oil, Sodium Hydroxide, Purified Aqua, Citric Acid.
22 flavors are available.
 Features:
Handmade organic oil soap that thoroughly washes the skin and  hydrate it
Contains characteristics that include antibacterial, antifungal, and antiacne
Suitable for skin that is sensitive
This item is both vegan and non-cruelty
7. TNW - The Natural Wash Handmade Potato Rice Soap For Face & Body (100gm), 199 Rs
TNW Potato Rice Soap is a handcrafted soap that is high in vitamins and minerals to give the skin a healthy glow. It's a natural soap that's free of dangerous chemicals. It's an excellent soap to have in your bathing set.
Formulated with Oryza Sativa, Potato, Citrus Limon extract, Cucumis Sativus extract, glycerin, Lens Culinaris, Carica Papaya Extract, Cocos Nucifera, Palm Kernel Oil, Castor Oil.
Oats & Honey, and Charcoal flavors are available.
Features:
100% Natural 
Handmade Soap
It helps remove impurities, excess oil, and open pores from the skin
Reduced tanning, and pigmentation, diminishes dark spots and adds glow
Moisturizing soap for face and body
Paraben, Silicon, and Sulphate free
No added color
8. Nisarg Panchgavya Soap (75g), 239 Rs
Nisarg Panchagavya is an Anti-bacterial, Gir cow dung soaps made using traditional ingredients. Gir cow is considered as sacred in Vedic dharma and the products made from her excreta help develop spiritually. Nisarg Panchagavya soap brightens the skin and makes it fresh and glowing.
Formulated with Panchagavya, Multani Mitti, Kapoor Kachli, Meda Stick, Turmeric, Shikekai, Shenk Jeera, Beasan, Pudina Satva, Ajwain Satva, Neem Oil, Mustard Oil.
 Features:
100% Natural ingredients used
The soap made by Gir cow dung is extremely effective in treating skin disorders and purifying the whole body
The herbs present in the soap kill bacteria and improve the blood flow of the body. If applied at the heels the soap makes the heel soft and smooth
It protects from radiation, pollution, and infection
It brightens the skin and makes it fresh and glowing
Free from chemicals, meat, and sodium Sulphate
9. Just Herbs Ayurvedic Handmade Kerala Coconut Bathing Soap Bar (100g), 262 Rs
Just Herb Ayurvedic handmade Soaps are made up of cold-pressed coconut oil and other natural ingredients. It is effective in providing all nutrients and nurturing benefits to your skin.
Formulated with Aloe vera leaf juice, Sacred Lotus infusion, Oatmeal, Sweta Sariva ext., Calendula ext., Shea Butter, Cold-pressed extra virgin Coconut Oil, Soy Lecithin, Saponified Coconut Oil.
 Wild Indian Rose and Coorgi Coffee flavors are available.
Features:
Skin becomes softer, smoother, and more radiant
Aid in the treatment of skin conditions such as dryness, psoriasis, dermatitis, and eczema

Helps glow to the skin

This handmade bathing bar is suitable for all skin types
Sulfates and parabens are not present
There are no animal by-products
10. Camia Handcrafted Cold Pressed Organic Rosemary Soap (125g), 295 Rs
Camia Handcrafted cold-pressed Organic Rosemary Soap embarrassed the natural way of cleansing. This soap possesses antioxidant, antimicrobial, and anti-inflammatory properties making it a one-stop solution for all your skin needs.
Ingredients used Organic Coconut Oil, Organic Palm oil, Organic Olive Oil, Organic Castor Oil, Organic Shea Butter, Organic Rosemary Essential Oil, Lye, Water, Himalayan Salt, Organic Rosemary Extract, and Clay.
5 flavors are available.
 Features:
100% Organic soap
It moisturizes, de-tans skin, and makes skin anti-aging 
Vegan and Halal
Cruelty-free
The soap is free from all artificial colorants, artificial fragrances, parabens, sulfates, phthalates, and petroleum
Plastic-free packaging
11. Deyga Charcol Bath Bar, 349 Rs
Deyga charcoal bath bar created with activated charcoal and a lovely combination of hydrating oils. It keeps you detoxified and renews your skin.
Ingredients used Activated Charcoal Powder, Olive Oil, Extra Virgin Coconut Oil, Castor Oil, Tea tree essential Oil, Unrefined shea Butter.
Shea Saffron, Rose Pink Clay, Neem & turmeric, Spinach & Cucumber flavors are available. Baby Bath Bar is also available.
 Features:
Reduces acne outbreaks due to its anti-inflammatory properties
Deeply cleanses the skin with its detoxifying properties
Makes skin smooth, silky, and blemish-free
Reduces skin irritation and blackheads
Exfoliates dead skin cells and minimizes clogged pores
Moisturises the skin with oodles of skin-loving oils
Free from SLS, mineral oil, fragrance, dyes, ethanol, and other harsh chemicals
12. Azafran Artisanal Licorice and Saffron Skin Brightening Soap, (100g), 400 Rs
Azafran Artisanal Licorice and Saffron Soap beautifully handcrafted, skin-brightening soap are made from all-natural components. Purify your mind, body, and soul with a royal bathing experience while dealing with unsightly tanning, drab skin, and undesired pigmentation by using this soap.
Ingredients used Sodium Soybeanate, Sodium Cocoate, Aqua, Sodium Olivate, Sodium Hydroxide, Crocus sativus Flower Extract, Vetiveria zizanoides Root Oil, Glycyrrhiza Glabra Extract, Olea Europea Oil.
Neem & turmeric, Australian Tea Tree Anti Blemish flavors are available.
 Features:
Enriched with Saffron and Licorice, this deep and mild cleanser has a delicious aroma 
Brightens and evens out skin
All skin types are suitable
There are no artificial fragrances, sulfates, phthalates, or parabens
13. Vilvah Classic Goatmilk Soap (125g), 450 Rs
Vivah Goatmilk handmade Soap contains alpha-hydroxy acids and Vitamins which keep your skin younger-looking and combat acne-prone skin effectively.
Formulated with Farm-Fresh Goat Milk, Extra virgin olive oil, Coconut oil, Castor Oil, Lavender Essential Oil, and Sodium Hydroxide (Lye).
9 flavors are available.
Features:
100% Organic ingredients are used
Goatmilk Soap contains Goatmilk which has a unique pH similar to humans. It contains vitamins and minerals that get easily absorbed into the skin
Hydrate and brighten the skin, helps fight acne-prone skin
It helps to gently exfoliate dead skin cells
Useful for dry and sensitive skin
Handmade Soap
Free from Parabens, SLS, Propylene glycol, Phthalates, NM, PCM, colorants
14. Juicy Chemistry Damask Rose, Geranium & Saffron Soap (100g), 495 Rs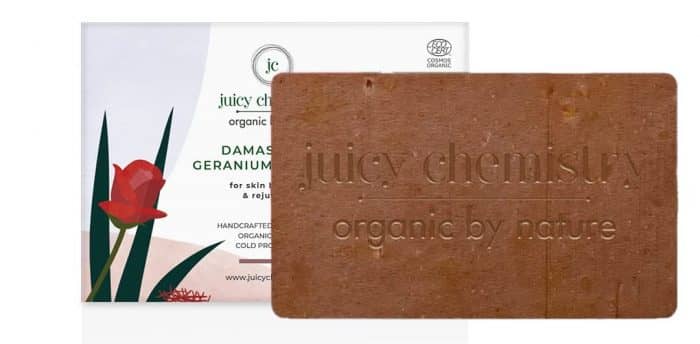 Juicy Chemistry Rose Geranium, Saffron Handmade Soap is a natural rejuvenating soap bar that nourishes, brightens, and gently washes the skin. This one is appropriate for skin types with Normal to Combination.
Lime-Ginger-Rice, Carrot-Rosehip-Neroli, Coconut-Vanilla, Potato-Tomato-Lemongrass, Papaya-Apricot-Mandarin, TeaTree-Neem-Rosemary, Sugarcane-Grapefruit, Coffe Oatmeal, Aloe-Calendula- Shea Baby Soap, Energising, Refreshing flavors are available.
Formulated with Aqua, Sodium Oliviate, Sodium Cocoate, Sodium Sheabutterate, Sodium Mango Sedate, Sodium Castorate, Geranium Flower Oil, Rose Flower Powder, Saffron Petals, Saponified oils of Olive, Coconut, and Castor.
 Features:
67.17% of the total ingredients are from organic farming. 100% natural origin of total 
Deep cleans pores and gets rid of contaminants
Enables the skin to absorb nutrients more effectively
Encourages skin that is more even-toned
Enhances the brightness of the skin
Maintains the natural hydration of the skin
Free from Sulfates, Synthetic fragrances, Dyes 
Cruelty-free and Vegan
Cosmos organic is certified by Ecocert Greenlife according to COSMOS standard