Are you looking for a Natural Face Pack for Glowing Skin

?
You are in the right place! Here is the Best Natural Face Pack for Glowing skin. You get that easily available online.
Face Mask is made by one or more herbs that are taken fresh and crushed into a paste. If the plant component is dry, a small amount of liquid, such as water or milk, can be added and mashed to produce a paste. Only a high-quality facial mask can help remove impurities buried beneath the epidermis' outermost layers. Assist in skin detoxification.
What's harmful in a chemical-based Face Mask?
Chemical-based face masks contain sulfates, synthetic fragrances, colors, and other hazardous chemicals that are particularly harmful to the skin if used for an extended period of time. On the other hand, chemical-free, natural face masks improve the tone and natural brightness of our skin without any negative effects.
DIY Remedies for Homemade Face Pack:
Make a thick paste out of 1/2 tbsp of turmeric, 1/2 tbsp of besan, and 1 tbsp of rose water. Apply it to your face, wait 20 minutes, and then rinse it off with warm water.
Mix together 1/2 tbsp Turmeric, 1 tbsp Rice Flour, 1/2 tbsp Sandalwood Powder, and 1 tbsp Rose Water. Massage it into your face and neck for 5 minutes and then once it is dry rinse with warm water.
How to apply Face Pack:
Step 1: Wash your face with a gentle soap or cleanser.
Step 2: Apply a medium coating of the facemask to the face and neck. Allow it to dry for 20 to 30 minutes before washing.
Step 3: Gently rinse with plain/lukewarm water or wipe with a cloth.
Step 4: Facemasks can be worn twice a week. After using the mask, place it in the refrigerator to keep it fresh.
Step 5: Use twice a week for smooth, nourished, and beautiful skin. Combine with Mura, Flora Jals, Face Gels, Face Malai, and Mukhalaya for spa-like facials! If you find that yogurt, milk, aloe vera, or honey work better for you, go ahead and use them.
Note: To check whether the product is really herbal or not, always check its ingredient on the pack before buying.
1. Bella Vita Organic Ubtan Plus Face Pack (100g), 199 Rs
Bella Vita Organic Ubtan Plus Face Pack is jam-packed with Ayurvedic-inspired mixes made from natural components and is the clear answer to total skin restoration. The Ubtan Plus Face Pack will reveal clearer, smoother skin after just a few uses.
Ingredients used Turmeric Powder, Safed Chandan Powder, Oats, Rose Flower, Benotine Clay, Kaolin Clay, Neem Powder, Tulsi Powder, and Sandalwood Oil.
C-Glow, D-Tan face packs are available.
 Features:
100% Natural, Vegan
Clarifies the skin 
Smoothens and brightens the complexion
Keeps the skin moisturized
2. Nat Habit Fresh Chandan Nagakesar Face Pack (40g), 213 Rs
Nat Habit Kitchen's fresh luxury ayurveda Ksheer Lepa (milk face pack) is made of raw milk and tons of fresh yogurt to offer you soft, incredibly supple, and young skin. help lighten skin & provide dazzling radiance. There are 15 powerful substances that have improved skincare.
Ingredients used Sandalwood, Nagakesar, Saffron, Raw Milk, Yogurt, Almond, Manjistha, Daruharidra, Beetroot, Tuberose, Raw Honey, Sugar, Bentonite, Besan, Sesame Oil, Sea Salt.
 Features:
Softens skin, giving it a baby-like appearance
Really powerful for radiance and shine
Evens out skin tone, brightens complexion, and removes dullness.
Removes patchiness and marks
Deeply nourishes & fights aging
Tightens pores
Preservatives & Chemical free. Pure fresh masking
3. Shat Pratishat Sandalwood and Clay Face Mask (50g), 259 Rs
The Shat Pratishat sandalwood face mask is an age-old Indian beauty secret. This sandalwood face pack enhances the appearance of the skin. This is a wash-off face-cleaning mask.
Ingredients used Aloe Vera Juice, Kaolin, Sandalwood Powder Glycerin, Coconut Oil, Hectorite Propanediol, Glyceryl Stearate Citrate, Glyceryl Monostearate, Caprylhydroxamic Acid and glyceryl Caprylate, Sandalwood Oil, Xanthan Gum.
 Features:
Natural Ingredients only
Skin is beautified by oil control
unclogs pores and cleans the skin
skin is left radiant and silky
Suitable for all skin types
No Synthetic Chemicals, No Paraben, No Sulphates, No Silicone, No Artificial Colours, Water-free Formula, Only Natural Fragrance
4. Earth Rhythm Matcha Green Tea Face Masque (50g), 287 Rs
This clay-based, salicylic acid blend reduces and prevents future breakouts while moisturizing skin for a more pleasant, healthier complexion after each application.
Formulated with Purified Water, Vegetable Glycerin, Matcha Green Tea Extract,  Willow Bark Extract, Corn Flower Extract, Cetearyl Alcohol, Xanthan Gum, Sodium Hyaluronate, Lecithin, Caprylyl Glycol, Kaolin Clay, Coconut Alkanes (and) Coco-caprylate/caprate, Caprylic/Capric Triglyceride, Salicylic Acid, Phenoxyethanol, trimethylene glycol, Tocopherol.
Blue Spirulina, Bilbery Sugarcane & Sugar Maple, Glycolic, Instant Radiance Face Glow masks are available.
 Features:
Decrease acne
Control oil production
Reduces the number of dead skin cells
Minimize blackheads
Fragrance, paraben, and sulfate free
5. The Bare Bar Haldi Chandan Brightening Face Pack (10g), 299 Rs
Bare Bar Haldi Chandan Face Pack is formulated with natural components that effectively brighten the skin.
Formulated with Multani Mitti, Sandal Oil, Orange Peel, Rose Petal Powder, Neem Leaf Powder, Amba Haldi extract, and Oatmeal.
Badaam & Gulaab Patti Cleanser, Neem Tulsi & Mint, Green Tea & Tulsi Cleanser Face pack available.
 Features:
100% Natural
Improves the appearance of the skin
Lightens and smoothes skin texture
Reduces dark spots and blemishes
Appropriate for all skin types
Free from Synthetic Perfumes, Preservatives, Colors, Bleach, and Chemicals
6. Mother Sparsh Rose & Beetroot Ubtan Face Mask (50g), 299 Rs
This clay-based, salicylic acid blend reduces and prevents future breakouts while moisturizing skin for a more pleasant, healthier complexion after each application.
Ingredient used Rose, Beetroot, Mosambi, Saffron, Lemon, Coconut, Cashew, Basil Leaves, Almonds, Groundnuts, Sandalwood, and Oats.
 Features:
Antioxidant-Rich Skin Food Refreshing Formula To Soothe Dull & Uneven Skin
Detoxifies The Skin
Helps offset sun damage and refreshes the skin
Suitable for Normal to dry skin.
Completely free from parabens, SLS, silicon, or any other harmful chemicals
7. TNW-The Natural Wash Tomato Clay Mask (50g), 311 Rs
The Natural Wash Tomato Clay Mask is made up of a variety of natural substances. Exfoliates dead skin cells naturally, removing tanning, whiteheads, and blackheads. Regular application of Tomato Clay Mask helps to minimize the appearance of open pores and makes skin beautiful and healthy.
Ingredients used Oatmeal Extract, Niacinamide, Sweet Almond Oil, Tomato Fruit Extract, and Hyaluronic Acid.
DE-Tan, DE-Pigmentation Tan, Anti-Acne face packs are available.
 Features:
Makes Skin Healthy and Glowing
Remove whiteheads and blackheads
Hydrates and moisturizes the skin while also minimizing open pores
Suitable for all skin types
Does not contain any harsh chemicals
8. Daughter Earth Purifying Clay Face Mask | Hemp + Vitamin E (65g), 487 Rs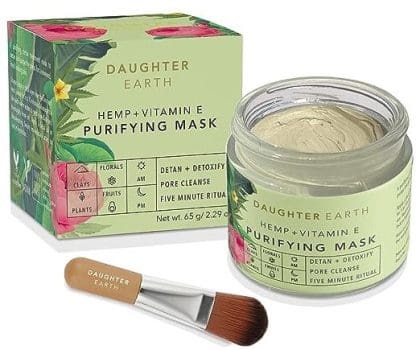 Bella Vita Organic Day Glow Face & Body Lotion with SPF 30 is a multipurpose lightweight product that can be used on your face, neck, and body without leaving a white cast. It provides all-around UV protection and, over time, will improve your overall skin texture, making it smoother and brighter.
Ingredients used Kaolin, Aqua, Volcanic Earth, Aloe Vera Leaf Juice, Hemp Seed Oil, Algal Diatomite Earth, Fuller's Earth, Green Tea Leaf Extract, Tulsi Leaf Extract, Cucumber Fruit Extract, Rose Flower Extract, Tocopheryl Acetate, Olive Fruit Oil, Amla Fruit Extract, Glycerin, Sodium Benzoate, Potassium Sorbate, Citric Acid (pH balancer).
 Features:
Gently removes contaminants and debris to reveal skin that looks fresh.
Deeply cleanses pores while tightening their appearance for a youthful glow.
One-step spa treatment for days when you could use a little more affection
No Silicon, Sulphate free, Fragrance-free, Gluten Free,  No Colorants
9. Azafran Deep Pore Cleansing Clay Masque (50g), 378 Rs
Azafran's Pore Deep Cleansing Clay Masque expands to remove impurities without over-drying skin. These organic face products in India will help you wash, nourish, and brighten your skin, making it seem healthy.
Ingredients used Aqua, Montmorilli, Glyceril, Sterate, Cetaryl Alchohol, Hydrogenated Soya Oil, Glycerine, Vetivera Zizonoide Oil, hydroxypropyl Methylscellylose, Polysorbate, D panthelon, Benzaotholium Cholirde, Sodium Chloride.
 Features:
Gently exfoliate and wipe away dirt, oil, and pollutants
Detoxifies and balances the skin, revealing glowing skin
Promotes collagen production
Nourishes and tightens the skin
No Harsh Chemicals, No Paraben, No Sulphates, No Phthalates
10. The Tribe Concepts Exotic Face Glow Face Mask (100g), 383 Rs
The Tribe Concepts is one-of-a-kind, an exquisite combination of natural Indian ingredients. This mask is an unrivaled product for all glow seekers out there.
Formulated with Red Sandalwood, Marigold, Rose, Licorice, Chirinji, KhasKhas, Wild Turmeric, Cinnamon, Camphore.
 Collagen Booster, Anti-Pigmentation & Tonning, Acne Spot Corrector masks are available.
 Features:
Provides skin that is evenly toned, clear, fresh, and bright, with added shine
Removes tan and treats minor acne, dark patches, and blotches
Reduces pigmentation
It aids in the nourishing and moisturizing of your skin
Chemical-free, Pure natural ingredients
11. Just Herbs Instaglow Face Pack with Turmeric C + Vitamin E (60g), 395 Rs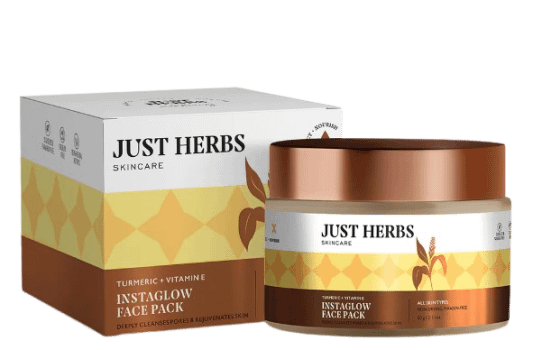 Just Herbs Instaglow Face Pack revitalizes and illuminates the face with 100% herbal ingredients.
Ingredients used Cold Pressed Sweet Almond Oil, Yashtimadhu, Indian Madder, Holy Basil, Cinnamon, Neem Ext., Turmeric, Bitter Orange Peel, Symplocos Bark, Honey, Sandalwood Ext., Zinc Oxide, Purified Water, Aloe Vera Leaf Juice, Vegetable Glycerine, Indian Volcanic Clay, Bentonite Clay, China Clay, Natural Preservative Blend Of Herbs And Essential Oils, Potassium Sorbate, Caprylyl Glycol, Gluconolactone / Sodium Gluconate.
Anti-Acne Ubtan, Anti-Tan, Sanface Skin Tightening, Instaglow Almond Complexion Pack, and Brightening face mask

 are available.
 Features:
Revitalizes the skin and increases its radiance.
Helps to increase the skin's brightness, detoxify the skin, and minimize pigmentation and discoloration.
The non-drying solution leaves skin feeling smooth and supple by thoroughly cleansing pores without irritating skin or removing its natural moisture content
Suitable for all skin types
Paraben free, SLS/SLES free
12. Plantas Age Defence and Cell Renewal Organic Face Mask (50g), 425 Rs
Plantas Age Defence & Cell Renewal organic face mask promotes collagen production, delays and minimizes fine lines and wrinkles, removes dead cells, and leaves skin clear, fresh, revitalized, soft, and bright.
Ingredients used Refined Shea Butter, Cetearyl Olivate, Sorbitan Olivate, Glycerin, Purified Water, Grape Seed extract, Acai extract, Sage extract, and Mulberry extract.
 Features:
100% natural. 96.107% of the total ingredients from Organic Farming
Reduce the appearance of age spots, fine lines, and wrinkles
It aids in restoring natural collagen, enhancing skin elasticity, and reducing dullness and dryness to improve skin smoothness
Brings out new, radiant, and rejuvenated skin.
Suitable for all skin types
Paraben-free, GMO-free, free from artificial fragrance, artificial colors, artificial preservatives
13. Ancient Living Organic Skin Radiance Face Pack (40g), 493 Rs
Ancient Living has selected the best herbs to complement your skincare routine and provide the necessary nourishment to keep your skin lustrous and smooth. The face pack contains a combination of ten Ayurvedic herbs with excellent nutritional value and anti-tan qualities. It heals acne and decreases blemishes. Its relaxing and cooling effects preserve and maintain the health of your skin.
Ingredients used Manjishta, Masoor Dal, Arjuna, Lodhra, Raktachandan, Ushira, Nagakesar, Yashtimadhu, Kasturi Haridra, Palasha Pushp Saffron.
Anti Acne Pimple Care, Rejuvanitive, Lemon & Papaya, Rose & Orange, Tulsi & Neem, Multani Mitti, Kasturi Turmeric Face pack available.
 Features:
100% organic
skin nourishing
It heals acne and minimizes blemishes.
It shields your skin from environmental contamination and keeps it healthy
14. Deyga Orange & Almond Face Pack (100g), 520 Rs
Degya's revitalizing citrus face pack improves the texture and shine of the skin while battling pigmentation, dullness, and tanning.
Formulated with Almond meal, Sun Dried pulp & zest of orange, turmeric root, and skin cherishing essential oils.
Rose & Mulethi, Spirulina Matcha, Charcoal, Tanners Cassia Face pack available.
 Features:
Plant-based, handcrafted in India
Reduce Tan
Brightness Tired and dull skin
Lightens pigmentation and acne scars
Enhance Skin Elasticity
Excellent for all skin types
Harmful chemical-free, Fragrance-free, Preservatives free, Ethanol free
15. Vilvah Charcoal Facemask (100g), 549 Rs
Vilvah charcoal facemask is a tiny home facial kit that rapidly brightens your dull-looking skin and is a lifesaver for troublesome skin. When used consistently, this efficiently combats annoying spots and blackheads.
Ingredients used Aloe vera, Vegetable Glycerin, Activated Charcoal, Kaolin Clay, Teatree Hydrosol
 Features:
Significantly reduces acne
Reduces pigmentation and successfully removes dark stains and spots caused by acne
Excellent for skin prone to acne. People with average skin can definitely use it as a detoxifier and to achieve the much-needed glow
No harsh chemicals, GMOs, Silicones, Sulfates, Parabens, or Artificial fragrances. All of the substances are natural and derived from plants
16. The Moms Co. Natural Clay Face Mask (100g), 379 Rs
The Moms Co., toxin-free Clay Face Mask is manufactured with the best and most natural materials. It detoxifies the face, eliminates pollutants, and absorbs excess sebum, giving the skin a brighter appearance.
Formulated with Moroccan Lava Clay, Kaolin Clay, Fuller's Earth Clay, Activated Charcoal, and Natural AHA's.
Badaam & Gulaab Patti Cleanser, Neem Tulsi & Mint, Green Tea & Tulsi Cleanser Face pack available.
 Features:
100% natural, Australian certified
Remove any extra oil or impurities
Exfoliates and reduces acne
Unclogs and reduces pores
Detoxify, & brighten skin. Reduce blackheads & blemishes
Free of Mineral Oil, Sulphates (SLS, SLES), Parabens, DEA/TEA, Phenoxyethanol, Synthetic Fragrances, PEGs, and many other potentially dangerous substances