Are you looking for Hair Serum-

Natural

?
You are in the right place! Here is the Best Hair Serum-Natural. You get that easily available online.
Hair serum protects the hair strands, provides volume, and deeply hydrates the hair follicles, strengthening the hair and reducing breakage and split ends. In order to nourish dry hair, which frequently seems harsh, dull, and prone to tangling, you should use an all-natural hair serum. 
What's harmful in chemical-based Hair Serum?
The majority of hair products are packed with harmful ingredients that instantly improve your hair. They contribute to our having smooth, bouncy, clean, and lustrous hair, which frequently leads us to accept them. However, these short-term advantages come with long-term negative consequences, such as hormone imbalance and cancer. Sulfates, Parabens, Polyethylene Glycols (PEG), Phthalates, Formaldehyde, Triclosan, Dimethicone, Retinyl Palmitate, Alcohol, Fragrances, Colors, Toluene, Resorcinol, Selenium Sulfide, and Quaternium-15 are among the substances you should stay away from.
How to use Serum for hair:
Pre Wash – Apply the serum to the scalp and hair till the ends before washing. You should let the serum sit on the hair for at least 60 minutes or overnight. After using a cleanser, continue styling as usual.
Post-wash – If you have dry or curly hair, you can apply this serum right away to reduce the frizz. A serum with an oil base will weigh down your hair if you have fine or oily hair and apply it after washing.
Note: To check whether the product is really herbal or not, always check its ingredient on the pack before buying.
1. Nat Habit Rosemary Conditioning Methi Jal (200ml), 339 Rs
Nat Habit conditioning Jal is Kitchen fresh Methi Jal prepared with deep soak & steam distillation of herbs & flowers. This ayurvedic conditioner for hair is made with organic ingredients that moisturize the hair shaft and prevent the cuticles from opening and becoming damaged. Additionally, the mane gains a nourished luster and the strands are strengthened.
Ingredients used Fengurik, Rosemary Leaves, Sage Leaves, Apple Cider Vinegar, Mulethi, Shikakai, and Tuberose.
Another variant of it, Rose Conditioning Methi Jal, Chamomile Conditioning Methi Jal, and Green Tea Conditioning Methi Jal are available.
 Features:
Hydrates the shaft and conditions it
Makes shin and eliminates flyaways and frizz
Reduces breakage and sun damage, and safeguards cuticles
Keeps hair from splitting
Controls scalp oil secretion and pH balance of the hair
When liberally applied to the scalp, strengthens roots and prevents greying
Suitable for all hair and scalp types, including oily, dry, normal, curly, colored, chemically treated, and henna-treated hair
No glycerin, no chemicals, and no preservatives
2. Organic Forest Hair Serum (50ml), 326 Rs
Vilvah Hair Serum is to breathe life into your dry, frizzy hair. Vilvah Hair Serum is filled with nutritious ingredients to provide all-day heat protection as well as incredible smoothness, shine, and UV protection. Additionally, it delays color fading and lessens damage.
Ingredients used Aqua, Diheptyl Succinate, Capryloyl Glycerin Sebacic Acid Copolymer, Phospholipids, Soybean Oil, Glycolipids, Glycine Soja Sterols, Hydrolyzed Soy Protein, Hydrolyzed Corn Protein, Hydrolyzed Wheat Protein, Erythritol, Dicocoyl Pentaerythrityl Distearyl Citrate, Caprylhydroxamic Acid, Caprylyl Glycol, Glycerin, Cetyl Alcohol, Cetearyl Olivate, Sorbitan Olivate, Lysolecithin, Sclerotium Gum, Xanthan Gum, Pullulan, Orange Essential Oil, Green Tea Essential Oil, Heptyl Glucoside, Glyceryl Monosterate, Sodium PCA, Sodium Lactate, Arginine, Aspartic Acid, PCA, Glycine, Alanine, Serine, Valine, Proline, Threonine, Isoleucine, Histidine, Phenylalanine, Sodium Stearoyl Glutamate, Argan Oil, Baobab Oil Sunflower Oil, Sodium Gluconate, Natural Vitamin E, Citric Acid (All ingredients are plant-derived).
 Features:
Promote natural healthy hair thickening 

It keeps the hair moisturized & protects hair from the external environment (Sun and Pollution)

Hair looks soft, shiny, untangled, and non-frizzy after application
Improve hair strength and hair shine improve color retention of dyed hair
Ideal for Normal, Dry & Damaged, Coloured, or Chemically Treated hair
100% free of chemicals. Free of mineral oil, synthetic fragrances, phthalates, triclosan, formaldehyde-releasing preservatives, polyethylene glycol aka PEGs., sodium lauryl sulfate (SLS)/Sodium Laureth sulfate (SLES), phthalates, dimethicone and many more, no Silicones, Carbomer, Quaternium & Keratin
Globally Approved PETA Vegan & Cruelty-Free 
3. Blue Nectar Hair Growth Serum with Almond, Rosemary oil (50ml), 575 Rs
Blue Nectar Hair growth serum comprises 8 Ayurvedic Herbs that are traditionally used for hair nourishment and wholesome hair care. The natural Hair Serum nourishes hair from root to tip for a lustrous shine, strength, and smoothness.
Ingredients used Bhringraj, Almond oil, Hibiscus, Rosemary oil, Plas Beej, Mulethi, Jatamansi, Brahmi, and Coconut oil.
 Features:
Promote hair growth
Reduce Dandruff and Itchiness
Help in restoring natural hair's natural oil
Non-sticky nourishment
Control frizz and flyaways. Boosts smoothness, reduce tangles
Travel friendly
4. Pavitra+ Hair Serum (30ml), 345 Rs
Pavitra+ hair serum is made from all-natural herbs and can be used without worrying about any adverse side effects. Pavitra+ Hair Serum is essential for your hair care routine preventing hair fall & give maximum nourishment to it. It also helps in growth, styling, and managing your scalp & hair. 
Ingredient used Sweet Basil, Hairy Root Culture Extract, Sunflower Seed Oil, Coconut Oil, Amla Ext, Brahmi Ext, Bhringraj Ext.
 Features:
Controls hair loss. Minimize breakage & damage to hair. It nourishes Scalp, protects hair strands
Makes hair look healthy & shiny
Suitable for all hair types. Both Women and Men can use
This Serum works on the scalp. So no need to apply on hair strands. Apply a few drops in the evening. Leave it overnight. Rinse the next day with a mild shampoo.
All-natural ingredients are free from harsh chemicals. It's color-safe. Free from SLS, Paraben
5. Natural Vibes Tea Tree Hair Serum (30ml), 499 Rs
Natural Vibes Tea Tree Hair Repair Serum is formulated with miraculous ayurvedic ingredients. It treats a variety of hair issues, including split ends, dandruff, hair loss, and damaged hair. Nothing can stop you from showcasing naturally healthy hair once these problems have been minimized. Furthermore, it is non-sticky.
Ingredient used Almond Oil, Amla Ext, Tea Tree Oil, Bhringraj Ext, Olive Oil, Sugandhit Dravya – DM water, Aloe Vera juice, Gluconolactone – Derived from Corn.
 Features:
100% Ayurvedic, Vegetarian, and Vegan
Reduce Hairfall, thinning, dandruff
Volumizes hair and induces hair growth
Nourishes hair makes them silky, shiny
Suitable for All hair types including colored/chemically treated hair
Free from silicones, parabens, sulfates, artificial dyes, mineral oils, artificial fragrances and so much more
6. Forest Essentials Hair Thickening Spray Bhringraj & Shikakai (50ml), 725 Rs
The goal of Forest Essentials Hair Thickening Spray is to promote hair development and increase hair density. It is a gentle, silkening hair serum enriched with Bhringraj and Shikakai, two potent Ayurvedic herbal extracts that support hair follicles, stop hair loss, and promote hair growth. The hair is given gloss and volume by wheat protein.
Formulated with Aqua, Alchohol Denat, Bhringraj Extract, Shikekai Extract, Licorice Extract, Fenugreek Extract, Amla extract, Patol Extract, Ratnjot Extract, Kalonjee Seed Oil.
 Features:
This Ayurvedic remedy works well to add volume to hair
It aids in reducing hair breakage and thinning
A non-greasy product that offers hair strength, volume, and luster
Free of petrochemicals, chemicals, and parabens
Eco-friendly packaging
7. Vilvah Store Anti Frizz Hair Serum (30ml), 750 Rs
Vilvah Hair Serum is to breathe life into your dry, frizzy hair. Vilvah Hair Serum is filled with nutritious ingredients to provide all-day heat protection as well as incredible smoothness, shine, and UV protection. Additionally, it delays color fading and lessens damage.
Ingredients used Black seed oil, Aloe barbadensis leaf extract, Curry leaf oil, Jasmine flower extract, Hibiscus oil, Glycerine, Arnica oil, Fenugreek seed extract, Baobab oil, Amla fruit extract, Vitamin E oil, Cypress essential oil. 
 Features:
Reduces flyaways and frizz
Prevents split ends and breakage
Smoothes each tress
Provides UV protection, and heat protection to hair that lasts for an entire day
Silicone Free Color Safe
8. Indulgeo Luxuriant Hair Vitalizer (120ml), 855 Rs
Indulgo Luxuriant Hair Vitalizer, the greatest botanical discovery to stop hair loss, is an exotic blend of essential oils and several other rare dry oils steeped in purified water and witch hazel. This solution, which has been clinically validated as being highly effective, also considerably enhances the volume, texture, and general health of the hair. This organic oasis is non-oily and free of adverse effects.
Ingredient used Rosemary oil, Lavender oil, Jojoba oil, Geranium oil, Ylang Ylang oil, Ginger root oil, Onion Seed oil, Clary sage oil, Tulsi extract, Neem extract, Blend of plant extracts, Distilled lotus extract, and Witch hazel
 Features:
Improves the volume, texture, and overall health of the hair
Promotes hair growth and prevents the scalp from dandruff, hairfall
Hydrates & nourishes the hair follicle
No side effects, and is also non-oily
All hair types – To be used only on the dry scalp to provide nutrition and accelerate new growth
100% natural, Handmade, Paraben free, Sulfate free
9. PLANTAS Hair Fall Control & Repair Organic Hair Serum (30ml), 1014 Rs
Plantas vitalizing serum's special combination of Brahmi extract and other organic oils promotes the strengthening and renewal of hair follicles, as well as significantly reducing hair fall.
Ingredient used Olive Oil, Virgin Argan Oil, Golden Jojoba Oil, Bhangra extract, Aloe Vera, Kalmegh extract, Grape Seed Extract, Brahmi extract, and Wheat Germ Oil.
Another variant of it, Organic Extra Nourishment & Protection hair serum is available.
Features:
100% Natural Origin of the total. 98.2% of the total ingredients are from organic farming
Repair hair and stop hair loss
Organic hair serum aids in the strengthening and renewal of hair follicles
Perfect for all hair types
Always apply before hair wash
Ecocert Greenlife's COSMOS organic certificated
100% Vegan, GMO-free, No artificial color & Fragrance, Paraben free, Sulfate free, Mineral free, Phthalate free, No artificial preservative, Cruelty-free, Eco-friendly packaging
10. Anthi: Anti-thinning hair serum (40ml), 799 Rs
Anthi Hair Serum is an anti-hair thinning serum that contains the goodness of powerful 20 plant extracts, pure essential oils, and naturally derived/eco-certified substances that aid in minimizing the indications of hair thinning.
Ingredient used Aloe vera, Green Tea, Larch,  Amla, Nettle, Sage, Linden, Ginseng, Pea Sprout, Capsicum, Tulsi, Chamomile, Henna, Birch, Horsetail, Greater Burdock, Common Hop, Millet, Bergamot & Lemongrass essential oil. In addition, this anti-thinning serum is fortified with milk proteins, potent vitamins, and minerals such as Biotin, vitamin B5, Niacin, Inositol, and Zinc PCA. 
Features:
Increases hair density and aids in hair thickness
Promotes the growth of hair
Minimizes hair loss

SLS/SLES free, Silicone free, Phthalates free, Paraben free, No artificial color/No synthetic fragrance
11. Earth Rhythm Camellia & Jamaican Black Castor Oil Hair Serum (50ml), 359 Rs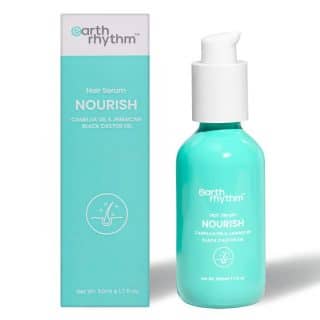 Earth Rhythm Camellia, Jamaican, Black Castor Oil (Nourish) Hair Serum is the ideal combination of nourishing elements that function as a superfood for your hair and also as a quick-fix for frizzy hair, making it ideal for dry and frizzy hair.
Ingredient used Organic Aloe Barbadensis Leaf Extract, Distilled water, and Organic Castor oil. Argania Spinosa Kernel Oil, Olive Fruit Oil, Camellia Oleifera Seed Oil, Xantham Gum, Tocopheryl, Benzyl Alcohol, Glycerin, and Sorbic Acid.
Other variants of it, Onion, Curry Leaf  Tamanu Oil hair serum & Neem Moringa Tea tree Oil hair serum & Fenugreek Tamarind Shikekai are available.
Features:
A serum for stronger hair that will make your hair lustrous and silky
Feeds hair follicles deeply and encourages hair growth
Offers the hair a natural sheen and a touchable softness
Helps stop flakes and scalp infections to stop hair loss
Minimizes broken ends and keeps the hair free of knots and frizz
Gives a drab hair luster and keeps it looking healthy
parabens, sulfates, phthalates, formaldehyde, mineral oil, triclosan, and harmful other chemicals. 
12.TNW 5-In-1 Hair Repair Spray Serum (100ml), 259 Rs
TNW – The Natural Wash 5-in-1 Hair Repair Spray Serum, you can give your hair back the nutrients it has lost while also making it frizz-free and manageable. The light, water-based nature of this spray serum immediately integrates into your hair.
Formulated with Wheat Germ Oil, Avocado Oil, Grapeseed Oil, Hydrolyzed Pea Protein, and Olive Oil.
 Features:
Hydrating hair spray that prevents frizz and improves manageability
Possesses a light water-based formulation that swiftly absorbs into the hair
Guards against heat and sunlight damage to hair
makes hair softer, more lustrous, and smoother while controlling hair thinning
Paraben-and sulphate-free