Are you looking for Anti Dandruff Shampoo – Organic

?
You are in the right place! Here is the Anti Dandruff Shampoo-Organic. You get that readily available online.
Dandruff is primarily caused by scalp dryness, which worsens in the winter. It is frequently accompanied by itching. It can become embarrassing over time. Dandruff can be aggravated by various factors, including using toxic hair products, not oiling and shampooing your hair twice a week, or if you are prone to Acidity and other Digestive issues.
What's harmful in chemical-based Shampoo?
Avoid Parabens, Sulfates, Phthalates, Formaldehyde, Triclosan, Synthetic Fragrances, and Elenium Sulfide in regular shampoo.
DIY remedies to get rid of Dandruff:
Take 2 teaspoons curds, 2 teaspoons lemon juice, 1 teaspoon Bhringraj oil, pea size Camphor, and 1/2 teaspoon Borax Powder (Suhaga or Tankan Bhasm) whisked together to make a smooth paste. Massage your scalp and hair for 5-7 minutes. After 20-30 minutes, wash with a mild shampoo. Apply this mask twice a week.
Take 5-6 Hibiscus flowers and boil them in water to make a paste. Add warm Coconut Oil and apply to the scalp. After 1 or 1 1/2 hours, wash it with warm water.
Blend Soaked Methi Seeds, Yogurt, 2-3 Curry Leaves, and 2-3 Whole Amlas to make a paste. Apply to the scalp, leave on for some time, and then rinse with warm water.
Combine 2-3 teaspoons of Yogurt, 1 teaspoon of Lemon juice, and 1 teaspoon of Honey. Apply it to your scalp. After some time, wash it with warm water.
How to apply Anti Dandruff Shampoo:
Apply a generous amount of shampoo.
Gently massage over the scalp from roots to tips.
Rinse hair with cold water.
Note: To check whether the product is really herbal or not, always check its ingredient on the pack before buying.
1. Jiva Neem Shampoo (200ml), 165 Rs
Jiva Neem Shampoo provides them to you in a convenient form. It uses neem's power to balance the pitta and kapha doshas. It's soft and gentle.  The shampoo also aids in the elimination of an itchy scalp. 
Ingredients used Neem, Rosemary-FI, Tulsi-Lf, Lemon-Fr. Juice, Reetha-Fr, Coconut-Pd, Glycerine, Sat loban, Natural Fragrance, Shampoo base derived from Coconut, QS: Purified water to make it 100%.
Features:
Ayurvedic formulation
Prevent early greying and hair loss
Treats dandruff and bacterial infections of the scalp
Nourishes hair while cleansing impurities
2. Just Herbs Anti Dandruff Shampoo with Hibiscus & Vetiver (100ml), 125 Rs
Just Herbs' gentle dandruff-control shampoo is made with soy protein, wheat germ, and other priceless herbs to leave hair looking visibly soft, lush, and conditioned.
It is formulated with Cold-Pressed Extra Virgin Coconut Oil, Cold-Pressed  Sweet Almond Oil, Cold-Pressed  jojoba oil, Cold-Pressed  Moringa Oil, Shea Butter, Aamra Butter, Vrikshamla Butter, Marigold Ext., Mace, Candelilla Wax, Carnauba Wax, Rice Starch, Soy Lecithin, Mixed Tocopherols.
May contain CI77491, CI77492, CI77499, CI77891, CI77019, CI77004, CI73360, CI16035, CI15850.
Features:
Non-drying and only mildly foaming
Prevent dandruff accumulation
It relieves itchy scalp
Encourage a healthy scalp
Suitable for color treated hairs
Sulfate & Paraben free
3. Natural Vibes Tea Tree (200ml), 349 Rs
Natural Vibes Tea Tree shampoo is a trustworthy solution to all of your hair repair and maintenance issues. Made with a one-of-a-kind combination of ayurvedic ingredients. Goodbye, dandruff, hair loss, and damaged hair.
Ingredients usedAmla Ext., Tea Tree Oil, Bhringraj Ext., Aloe Vera, Sugandhit Dravya (base) consisting of Coco Glucoside, Palm Kernel oil & Glucose, Sodium Cocoyl Glutamate, Decyl Glucoside, Lauryl Glucoside, Vegetable Glycerin, Gluconolactone.
Features:
Controls hair loss, thinning, and dandruff.
Repair damaged hair, Sooth scalp
Healthy, Nutritious, and Silky Hair
Appropriate for all types of hair
Free from parabens, phthalates, sodium lauryl sulfates, silicone, and other chemicals
4. The Organic Forest Anti Dandruff Shampoo (200ml), 385 Rs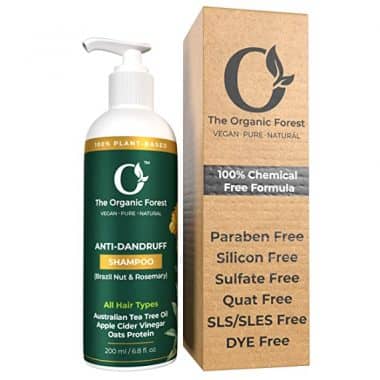 The Organic Forest Natural and Vegan Anti-Dandruff Shampoo contain Organic ingredients. Ideal for scalps prone to dryness, itching, and dandruff.
Ingredients used Purified Water, Sodium Lauroyl Methyl Isethionate, Sodium Methyl Oleoyl Taurate, Plant Glycerin, Diheptyl Succinate, Erythritol, Glyceryl Mono Stearate, Capryloyl Salicylic Acid, Sodium Cocoyl Hydrolyzed Oat Protein, Fructosyl Cocoate, Capryloyl Glycerin, Caprylhydroxamic Acid, Caprylyl Glycol, Phospholipids, Sunflower Seed Oil, Glycolipids, Glycine Soja Oil, Glycine Soja Sterols, Cetearyl Olivate, Sorbitan Olivate, Lavender Essential Oil, Eucalyptus Essential Oil, Camphor Essential Oil, Sulfur, Agar, Acacia Senegal Gum Extract, Xanthan Gum, Sodium Stearoyl Glutamate, Natural Vitamin E, Australian Tea Tree Oil, Brazil Nut Oil, Apple Cider Vinegar, Rosemary Oil, Sodium Gluconate, Citric Acid.
Features:
Enhanced with Organic, Vegan ingredients
It eliminates dandruff and has a calming and anti-irritating effect on the hair. It controls sebum production, repairs the skin barrier, and normalizes cell turnover
It helps to condition, combats dandruff, and balances pH on the scalp
Removes dandruff and dead skin cells from the scalp
Ideal for dry, itchy, and dandruff-prone scalp
No climbazole, piroctone olamine, or zinc pyrithione
5. Himalayan Organics Tea Tree Shampoo (300ml), 499 Rs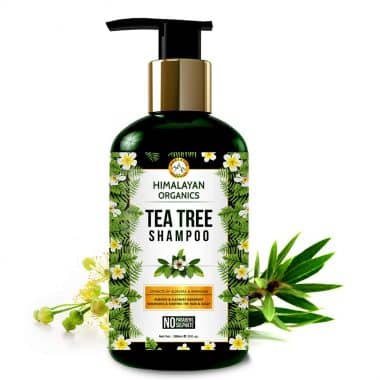 Himalayan Organics Tea Tree Shampoo acts as a natural hair revitalizer by protecting the follicles from becoming blocked by toxins and pollutants in the environment, allowing for full nutrient absorption and hair growth. It helps remove impurities and controls dandruff and dry flakes.
It is formulated with Purified Water, Coco Glucoside, Cocamidopropyl Betaine, Decyl Glucoside, Guar Gum, Glycerin, Aloe Vera Extract, Amla Extract, Benzyl Alcohol, Bhringraj Extract, DL- Panthenol, Gotu Kola Extract, Methi Extract, Moringa Extract, Reetha Extract, Shikakai Extract, Citric Acid, Potassium Sorbate, Sodium Benzoate, Fragrance, Aloe Vera, Green # 5 (CI 61570).
Features:
Plant-based ingredients
 It aids in cleansing impurities and controls dry flakes and dandruff
Nourish the scalp, keeps the roots clean, and enhance blood flow over the scalp
Promoth smooth & bouncy hair
Accelerate hair growth
Free from Parabens, Sulfates, artificial colors, binders, chemicals, synthetic elements, and harsh chemicals
6. Vilvah Dandruff Control Herbal Shampoo (200ml), 499 Rs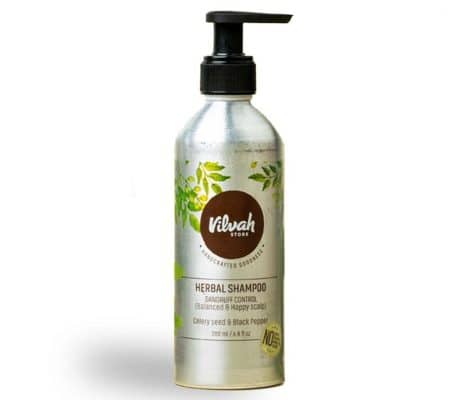 Vilvah Dandruff Control Shampoo, enriched with traditional power herbs can help to reduce dandruff-causing microbes and balance the scalp effectively. This gentle daily shampoo makes hair healthy, shiny, and bouncy and is perfect for hair that has received color treatment.
It is formulated with Aqua, Rosemary water, Basil Water, Disodium Cocyl Glutamate, Cocamidopropyl Hydroxysultaine, Sodium Lauryl Sarcosinate,  Xanthan gum, Guar Hydroxypropyltrimonium, Celery Seed Extract, Sunflower Sprout Extract, Neem Extract, Amla Extract, Sodium Benzoate, and Potassium Sorbate, Tea Tree Oil, Lemon Oil, Black Pepper oil, Sodium Gluconate.
Features:
Vegan, Plant-derived ingredients used
A pH-balanced shampoo with active ingredients that have been clinically shown to improve scalp health
Effective for treating both dry and oily dandruff
Effectively controls dandruff from the first wash; regular washing can prevent a recurrence
For severe dandruff, continued use is indicated
The Color Protection Active helps color-treated hair maintain its color
No harsh chemicals, No synthetic fragrance, No mineral oils, No phthalates, No silicones, No parabens, No Sulfates, No DEA/MEA, No PEGs, and No animal testing
7. Blue Nectar Anti Dandruff Hair Cleanser Shampoo (200ml), 525 Rs
Blue Nectar Anti Dandruff hair cleanser shampoo is made entirely of organic ingredients, including 26 ayurvedic herbs infused with essential oils that help to retain moisture and fight dandruff.
Ingredients used Bhringraj Extract, Shikakai Extract, Gudhal Extract, Reetha Extract, Onion Extract, Heena Extract, Methi Extract, Amla Extract, Brahmi Extract, and Neelambari Extract.
Features:
Helps in healthy & dandruff free scalp
Removes flaky scalp while also reducing itching
Suitable for all hair types
Sulfate & Paraben free
8. SoulTree Anti-Dandruff Shampoo With Aloe & Cleansing Lemon Peel (250ml), 1145 Rs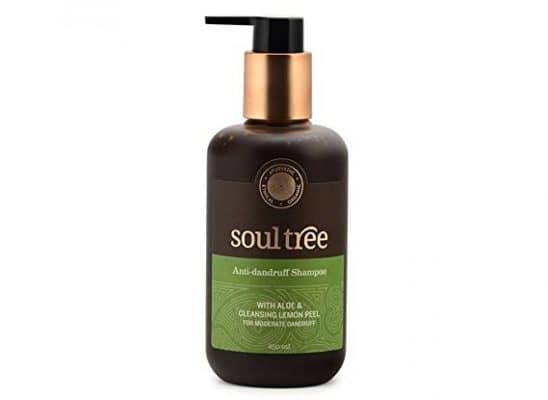 Soultree Anti-dandruff shampoo is made with a traditional Ayurvedic herb blend that soothes and nourishes the scalp. It strengthens the hair and keeps it from greying prematurely. Cleanses the scalp, relieves itching and combats dandruff.
Ingredients used Aqua, Decyl glucoside, Lauryl glucoside, Caprylyl/capryl glucoside, Coco glucoside, Glycerine, Aloe vera juice, Sodium gluconate, Sodium lactate, Glycerol mono oleate, Neem infusion, Reetha extract, Methika extract, Aamla extract, Parfum (From Essential Oil), Zn PCA, α-glucan oligosaccharide, Sodium levulinate, Xanthan gum, Citric acid, Potassium sorbate, Lemon peel oil, Neem oil, Linalool, Limonene, Geraniol, Citral.
Features:
Ayurvedic, Natural Formulation
Prevents dandruff without drying out the scalp, reduces scalp itching
Free of SLS/SLES
Suitable for dandruff-prone scalps
Contains no Parabens, Silicones, Lead, DEA/TEA, phthalates, SLS/SLES, Mineral Oil, Petrolatum, or Synthetic Fragrance.
9. Faith & Patience Minty Camel Anti dandruff Shampoo (340ml), 899 Rs
Faith & Patience is a soothing shampoo that protects the scalp, controls sebum, and extends the life of the hair. It's a two-in-one shampoo that cleans your scalp while also moisturizing your hair.
Formulated with Camel Milk, Hydrolyzed Wheat Protein, Rosemary Extract, Mountain Tobacco Extract, Chamomile Flower Extract, Silver Birch Extract, Seaweed Extract, Nettle Flower Extract, Pro-Vitamin B5, Vitamin B3, Channeled Wrack, Biotin, Honey Water, Glycerine, Btms-50, Decyl Glucoside, Coco Glucoside, Sodium Lauroyl Sarcosinate, Cocamidopropyl Betaine, Brassicamidopropyl Dimethylamine, Peppermint Essential Oil, Sodium Benzoate & Potassium Benzoate And Food Color.
Features:
Anti-Fungal
Anti- Hair Fall
Scalp Soothing
Anti- Inflammatory
Dandruff Elimination
10. Juicy Chemistry Baobab, Rosemary, and Tea Tree Shampoo (200ml), 850 Rs
Juicy Chemistry-certified organic shampoo aids in follicle strength and scalp health improvement. It is a mild but powerful cleanser. If you're using this organic shampoo for the first time, your scalp might undergo a brief transition.
It is formulated with Water, Potassium Olivate, Potassium Cocoate, Potassium Castorate, Lavender Oil, Rosemary Oil, Tea Tree Oil, Potassium Baobabate, Sugar, Tocopherol (Vitamin E), Saponified oils of Olive, Coconut, Castor & Baobab. 
Features:
100% Organic, Vegan
Reduces flakiness and itchiness
A mild but powerful cleanser
Strengthens hair and encourages a healthy scalp
Free from GMOs, Sulphates, Synthetic fragrances, Dyes
11. Sadhev Ayurvedic Anti-Dandruff Shampoo (75ml), 575 Rs
Sadhev's Ayurvedic Anti-Dandruff Shampoo contains thyme and rosemary extracts. This magical concoction removes dandruff, soothes the scalp, and improves overall hair health.
Ingredients used Neem, Rosemary, and Bakuchi.
Features:
Organic and Ayurvedic from their own farm
It helps get rid of dandruff
Reduces hair loss and encourages hair growth
Moisturizes the scalp and makes hair healthier and more lustrous
It helps increase the scalp's blood flow