Are you looking for Conditioner-

Natural

?
You are in the right place! Here is the Best Hair Conditioner. You get that easily available online.
Conditioner is typically used as the second step in the hair-washing process. While shampoo is designed to remove sweat, dead skin cells, and hair products, conditioner softens and makes hair easier to manage. It also shields the hair shafts from damage.
What's harmful in chemical-based Hair Conditioners?
The majority of hair products are packed with harmful ingredients that instantly improve your hair. They contribute to our having smooth, bouncy, clean, and lustrous hair, which frequently leads us to accept them. However, these short-term advantages come with long-term negative consequences, such as hormone imbalance and cancer. Sulfates, Parabens, Polyethylene Glycols (PEG), Phthalates, Formaldehyde, Triclosan, Dimethicone, Retinyl Palmitate, Alcohol, Fragrances, Colors, Toluene, Resorcinol, Selenium Sulfide, and Quaternium-15 are among the substances you should stay away from.
Homemade/DIY Remedies:
Traditionally Indian people use oil as a conditioner. You can apply hair oil at night or half an hour before shampooing. This will nourish & condition your hair. It's a very cheap & effective remedy.
You can use curd as a conditioner. Apply it on hair for 20-25 minutes, then wash with herbal shampoo. 
On clean, damp hair, apply a thick layer of product.
Leave it on for 2-3 minutes for the best results.
Thoroughly rinse. Use it after shampooing on a regular basis for shiny, soft hair.
Note: To check whether the product is really herbal or not, always check its ingredient on the pack before buying.
1. Natural Vibes Tea Tree Hair Conditioner (150ml), 375 Rs
Natural Vibes Tea Tree Hair Conditioner is an ayurvedic unique blend enhanced with Tea Tree, Bhringraj, and Aloe Vera. The conditioner will moisturize, nurture, and strengthen the scalp.
Ingredients used Tea Tree Oil, Bhringraj Ext., Aloe Vera Ext., Sugandit Dravya derived from – Derived from rapeseed plant, Stearyl Alcohol -Derived from Coconut oil & Vegetable fatty acids, Gluconolactone.
 Features:
100% Organic, Vegan
Strengthens your hair while nourishing your scalp
Reduces dandruff and fixes frizzy, damaged hair
Reduce hair loss and improve softness and shine
Reduce split ends and prevent hair breakage and loss
Paraben SLS, SLES, Phthalates, Cruelty-free
2. Arata Natural Nourishing Hair Conditioner (75ml), 224 Rs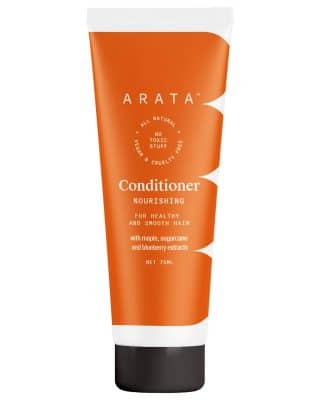 Arata Nourishing Hair Conditioner is a 100% nature-derived, plant-based, vegan product with soothing, toxin-free ingredients that feel fantastic on your hair.
Ingredients used Purified Aqua, Brassicyl Isoleucinate Esylate and Brassica Alcohol, Caprylhydroxamic Acid, Glyceryl Caprylate, Glycerin, Guar Hydroxy trimonium Chloride, Glyceryl Caprylate, Glyceryl Undecylenate, Water and Vaccinium Myrtillus Fruit/Leaf Extract, Saccharum Officinarum Extract and Orange Fruit Extract, Lemon Fruit Extract and Sugar Maple Extract, Heptyl Undecylenate, Essential Oils, and Safe Fragrances, Arginine, Sodium Gluconate.
Another variant of it, Advanced Curl Care Leave-In Conditioner is available.
 Features:
100% natural, plant-derived ingredients are used
Gently detangles & hydrates hair
Leaves hair shiny & strong
Prevents hair fall, hair damage, dandruff
No SLS, Parabens, Heavy Metals, Triclosan, Formaldehyde, Phosphates, SLES, MEA, DEA, TEA, Dyes, or Caustics
Vegan, Cruelty-free, toxic-free & Australian certified
3. Sesa Rice Water Conditioner with Biotin & Shea Butter (300ml), 422 Rs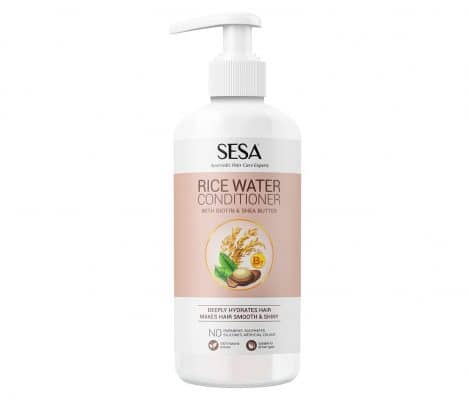 Sesa Rice Water Conditioner is a gentle conditioner formulated with Ayurvedic herbs for dehydrated, rough, and unmanageable hair. Its formula contains only natural active ingredients. It hydrates the hair deeply while leaving it smooth and shiny.
Ingredients used Aqua, Ceto Stearyl Alcohol, Behentrimonium Chloride, Glycerin, Aloe Vera extract, Coconut Oil, Shea Butter, Olive Oil, Jojoba Oil, Almond Oil, Guar Hydroxypropyltrimonium Chloride Powder, Polyquaternium-10, Hydroxy Ethyl Cellulose, Polyquaternium-7, Rice Water extract, D Panthenol, Amla, Reetha, Shikakai, Bhringraj, Fenugreek & Blackseed extracts, Imidazolidinyl Urea, Amaranthus Caudatus Seed extract, Sandalwood Oil, Biotin, Pea extract, Sodium Gluconate, Butylated Hydroxytoluene, Citric Acid, Sodium Benzoate, Potassium Sorbate.
Other variants of its Onion Conditioner with Reetha & Shikekai are available.
 Features:
100% Natural
Gentle on the hair.
Designed specifically for dehydrated, rough, and unmanageable hair
Suitable for all hair types
Free of mineral oil, parabens, silicones, artificial color, and fragrance
4. Organic Harvest Damage Repair Conditioner (200ml), 480 Rs
Organic Harvest Conditioner for Dry and Damage Repair created with plant-based. This dry hair conditioner fortifies and moisturizes the hair, making it soft and shiny. By reducing breakage, heat damage, and frizz, the keratin-rich product helps to strengthen the hair.
Ingredients used Aqua, certified organic xanthan gum, keratin protein, and provitamin B5.
Other variants of it, Moisturizing Conditioner, Red Onion Conditioner, Anti Dandruff Conditioner, Normal Conditioner, and Hair Strengthening Conditioner are available.
 Features:
100% organic gel-based conditioner 
PABA, paraben, mineral oil, and animal ingredient free
100% Cruelty-Free Hair Conditioner
Both men and women can use it
Ideal for all types of hair
5. Just Herbs Kumuda - Indian White Water Lily Silicone-Free Conditioner (200ml), 516 Rs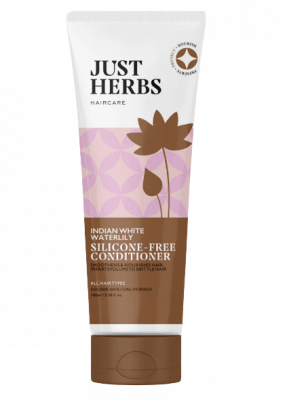 Just Herbs Kumuda, also known as Indian white waterlily conditioner is free of silicone. It hydrates and smoothes out dry, damaged hair without adding extra weight to your strands and improves the texture & volume of hair. 
Ingredients used  Indian Water Lily, Gotu kola, Bhringraj ext. Vibhitaki, Mulethi ext., Mustaka, Indian Sarsaparilla, Aloe Vera Leaf Juice, Cold pressed Wheat Germ Oil, Cold-pressed Jojoba Oil, Purified Water, Coconut Oil derivatives, Cold pressed Moringa seed oil, Cetearyl Olivate, Cold-pressed Avocado Oil, Vegetable Glycerine, Octyldodecanol, Sorbitan Olivate, Shea Butter, Caprylyl Glycol, Potassium Sorbate, Gluconolactone, Sodium Gluconate, Ethylhexylglycerin, a natural preservative blend of herbs and essential oils.
Another variant of it, Cater & Black Onion Seed Conditioner is available.
 Features:
Truly Ayurvedic
Smoothens & Nourishes hair
Reduce frizziness & dryness. Improve hair texture
This conditioner combats hair thinning and hair loss while promoting hair growth
Suitable for all hair types
Free of silicons, petrochemicals, parabens, SLS, SLES, PEG, GMOs, and other potentially dangerous synthetic components
Vegan and free of animal testing
6. Blue Nectar Hair Fall Control Conditioner (200ml), 575 Rs
Blue Nectar Hair Fall Prevention Ayurvedic herbs are used in the formulation of this hair conditioner. This will leave your hair fine, smooth, lustrous, and nourished. Regular use of hair conditioner helps to optimize the natural oil balance of the hair and scalp, retaining and restoring natural moisture to the hair.
Ingredients used Glycerin, Aloe vera, Amla extract, Honey, Mulethi extract, Bhringraj extract, Hibiscus extract, Brahmi extract, Bhumi Amla extract, Henna extract, Bela extract, Conditioner Base, Vitamin E Acetate, Phenoxyethanol, Capryl Glycol, Essential oil.
Another variant of it, Anti Dandruff Conditioner is available.
 Features:
100% organic 
Smoothens & Softens hair 
Repairs damaged hair and split ends
Helps to restore natural moisture, and shine and reduce dry & frizzy Hair
Suitable for all hair types. For color hair also
Free from Sulphate, Paraben
7. Vilvah Cream Conditioner (200ml), 600 Rs
Vilvah's Cream Conditioner is luxurious, and designed specifically for dry, frizzy, and damaged hair. This hydrating conditioning treatment deeply conditions, detangles and protects hair from future breakage. The formula's impressive ingredients provide incredible slip and leave the hair soft, silky, and shiny.
Ingredients used Aqua, Aloe vera Hydrosol, Jasmine Hydrosol, Cetearyl alcohol, Glyceryl stearate, Tucuma Butter, Broccoli seed oil, Polygleceryl-3 Cetyl Ether, Sesame seed oil,  Pentaclethramidopropyl Dimethylamine, Glycerin, Lemon peel oil, Potassium Sorbate, Sodium Benzoate, Rosemary Leaf oil, Lactic acid.
Another variant of it, Light Conditioner is available.
Vegan hair conditioner made entirely of plant-based ingredients

Controls Frizz and improves hair manageability

Protects hair from breakage and deeply conditions frizzy hair
Color-treated hair is shielded from damage
Suitable for all hair types, including damaged and frizzy hair
 No harsh chemicals, No synthetic fragrance, No mineral oils, No phthalates, No silicones, No parabens, No Sulfates, No DEA/MEA, No PEGs, and No animal testing
8. Earth Rhythm Moist Repair Murumuru Butter hair Conditioner (100ml), 349 Rs
Earth Rhythm Moist Repair Conditioner keeps hair hydrated for a long time. Goodbye to your dry, frizzy hair by using this.
Formulated with Aqua, Brassicyl Isoleucinate Esylate, and Brassica Alcohol, Helianthus annuus flower oil, Glycerine, cetyl alcohol, Coconut Alkanes, and Coco-Caprylate/Caprate Distearoylethyl Dimonium Chloride, Cetearyl Alcohol, Phenoxyethanol triethylene glycol Astrocaryum murumuru seed butter, Theobroma Grandiflorum seed butter Oryza sativa water ferment, Guar Hydroxypropyltrimonium Chloride, arginine.
Natural product
Last long
Prevents frizzy hair
Fragrance-free, Phthalate free & Cruelty-free
9. Anthi: Anti-Hair Thinning Conditioner (100ml), 499 Rs
Anthi anti-thinning hair conditioner contains 17 plant-based ingredients that help thicken hair, increase volume, and reduce hair loss (due to breakage).
Formulated with Aloe Vera, Green Tea, Murumuru, Babassu, Nettle, Sage, Chamomile, Henna, Pea Protein, Birch, Horsetail, Hop, Burdock, Millet, Linden, Rosemary & Lavender Essential Oil, Potent Vitamins And Minerals, Biotin, Vitamin B5, Niacin and naturally derived conditioning ingredient from Guar beans.
Contains the goodness of plant-based ingredients
Increase the volume of thinning hair and reduce hair loss caused by breakage

Hydrates and nourishes the hair

Safe for color-treated hair
It contains no nasties such as SLS/SLES (sulfates), silicones, parabens, phthalates, synthetic fragrances, or color
10. Plantas Organic Hair Fall Control Conditioner (100ml), 505 Rs
Plantas Organic Conditioner includes organic Bhangra & Shikakai, and Heena, which have been combined to address all potential causes of hair loss while adding smoothness and shine to the hair, leaving it soft and silky.
Formulated with Refined Shea Butter, Golden Jojoba Oil, Jatamansi Extract, Hibiscus Extract, Glycerin, Purified Water, Bhringraj Extract, Henna, Methi Extract, Shikakai Extract, Grape Seed.
Another variant of it, Extra Nourishment & protection Conditioner is available.
100% organic ingredients. 96.16% of the total ingredients are from organic farming
Gently detangles hair & prevents breakage caused due to washing & styling
Reduce hair fall
Free of Parabens, Sulfates, Artificial Colors, Artificial fragrances, Preservatives, GMO,
Sustainable packaging. Friendly to travel
11. Organic Forest Turmeric & Bamboo Conditioner (100ml), 505 Rs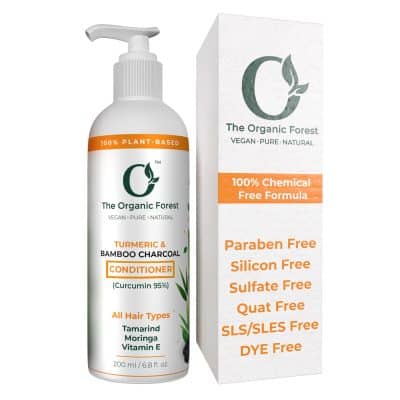 Organic Forest Turmeric and Bamboo Charcoal Conditioner will hydrate and replenish nutrients in your hair. provide essential minerals, vitamins, and antioxidants Ideal for everyday use.
Formulated with Aqua, Diheptyl Succinate, Capryloyl Glycerin, Erythritol, Plant Glycerin, Cetyl Alcohol, Rice Oleoresin, Cetostearyl Alcohol, Caprylhydroxamic Acid, Caprylyl Glycol, Glyceryl Monostearate, Bamboo Charcoal, Tamarind Extract, Bergamot Essential Oil, Orange Essential Oil, Lavender Essential Oil, Sodium Stearoyl Glutamate, Shea Butter, Natural Vitamin E, Moringa Extract, Turmeric Extract, Citric Acid. (All ingredients are plant-derived).
Another variant of it, Extra Nourishment & protection Conditioner is available.
The Organic Forest's products are PETA-approved, vegan, natural, organic, and made with plant-based ingredients that have pH-balancing properties
This conditioner is a potent detoxifier that increases anti-oxidants and thickens hair
It promotes hair growth and soothes the scalp, as well as fighting free radicals and strengthening roots
The formula contains No parabens, silicones, sulfates, SLS, SLES, or quat, No Zinc pyrithione, Climabazole & Piroctone olamine
12. Sadhev - Ayurvedic Conditioner (200ml), 1300 Rs
Sadhev's handmade hair conditioner restores natural luster to dry, damaged hair and is a wonderful combination of alluring Ayurvedic ingredients. Its special elements assist in preventing towel damage to the hair as well as strengthening hair follicles.
Ingredients used Alovera, Hibiscus flower, and Soap Nut.
 Features:
Organic and Ayurvedic, Natural Vegan, Cruelty-free, Plant-based
Removes damaged dead skin cells
Stops hair loss
Stimulates regeneration of hair
Free from petrochemicals, parabens, phthalates, sulfates, synthetic colors, artificial fragrances, additives, and other synthetic substances
13. Forest Essentials Travel Size Hair Conditioner Bhringraj & Shikakai (50ml), 450 Rs
Forest Essentials Bhringraj & Shikakai Hair Conditioner contains ayurvedic ingredients. It repairs dry, dull, and damaged hair to improve hair texture. It also nourishes the hair deeply.
Formulated with Reetha Extract, Coconut Milk, Shikekai Ext., Bhringra Ext., Sweet Almond Oil, Kalonji Seed Oil, Fenugreek Ext., Amla Ext., Castor Seed Oil.
Another variant of it, Japapati & Brahmi Conditioner, Amla Honey & Mulethi Conditioner is available.
This Ayurvedic treatment deeply restores and nourishes hair
It detangles dry, broken hair to make it easier to handle
This mixture enhances the texture of the hair for a more lustrous appearance
Free of petrochemicals, chemicals, and parabens
Sustainable packaging. Friendly to travel