Are you looking for Natural Body Lotion

?
You are in the right place! Here is the Best Body Lotion. You get that easily available online.
In all seasons, but especially in the winter, your skin requires daily moisturizing. Whatever your skin type, it should be moisturized. The biggest organ we have is our skin, which many people are unaware of. By moisturizing the skin, you may help prevent skin issues, battle aging symptoms, hide scars, replace lost moisture, and maintain younger, healthier skin.
What's harmful in chemical-based Body Lotion?
Our skin absorbs approximately 60% of what we apply, it is irresponsible to slather body lotion all over our bodies without first checking the ingredient lists. Unfortunately, many of us continue to do so. When reading the labels of body lotions, be aware of these 6 harmful substances. BHA, DMD, Hydantoin, Fragrance+Parfum, Retinyl Palmitate, Parabens, and Triethanolamine.
DIY remedies to moisturize the skin:
Indians have used cold-pressed oil as a body moisturizer since ancient times. Before taking a bath, you can massage oil all over your body, then work out. It will moisturize and soften your skin & make bones strong. It is a less expensive and more effective method of moisturizing the skin. Sesame oil is suitable for all seasons. If you have extremely dry skin in the winter, you can use Mustard oil. Summer is the best time to use coconut oil.
You can use Alovera gel as a moisturizer.
How to apply Body Lotion:
Apply a generous amount of body lotion to clean, dry skin.
Massage it gently for 1 minute to allow it to absorb.
Can be left on overnight.
Note: To check whether the product is really herbal or not, always check its ingredient on the pack before buying.
1. Bella Vita Glowtion - Face and Body Lotion (100ml), 209 Rs
Bella Vita Organic Glowtion has the ability to nourish and moisturize your skin deeply. It is a luxurious, natural-ingredient-infused face and body lotion. It is the ideal cream to smooth skin texture and replenish skin hydration because of its ability to rejuvenate dull, dry skin rapidly.
Formulated with  Aqua, Glycerin, Aloe Vera Extract, Xanthan Gum, Shea Butter, Cocoa Butter, Glyceryl Monostearate, Stearic Acid, Capric, Caprylic Triglyceride, Vitamin E, Polysorbate 20, Sodium Benzoate, Ifra Certified Allergen Free Fragrance.
Other variants of it  Women Rose Body Lotion, and Senorita Women Body Lotion are available.
Features:
Natural, non-greasy 
Deeply moisturizes
Skin hydration and pH balance
limits excessive oil production
Protects the skin from free radicals. It makes the skin tighter, younger, and smoother.
For all skin types. For both Men & Women,
2. Coco Soul Body Lotion with Coconut, Sandalwood (200ml), 234 Rs
Coco Soul body lotion was created using ancient Ayurvedic wisdom. The ayurvedic components of this natural body lotion offer you a clearly moisturized glow and firm skin from the very first application, while its lightweight texture melts to enter deeply into the skin cells. Excellent for everyday use.
Formulated with Coconut Fr. Oil, Sandalwood Wd. Powder, Liquorice St Extract, Phenoxyethanol, Sugandhit Dravya, Aqua Base QS.
Features:
100 % Organic, Vegan, non-greasy 

Moisturizes skin for up to 24 hours

It gives soft, smooth radiant skin
Reverse sun damage & age spots
Suitable for all skin types
Free from Paraben, Sulphates, Mineral Oil, Silicon, Phthalate, DEA, Petrolatum, Propylene Glycol, Formaldehyde
3. Organic Harvest Body Butter With Honey & Milk (100ml), 237 Rs
Organic Body Butter with Honey and Milk is an unrefined and raw body butter. It provides ultra-rich 8 to 12 hours of moisturization while also repairing, repairing, and protecting the skin. For opulent, silky moisture that feels non-greasy, the raw texture glides into the skin.
Ingredients used Shea Butter, Organic Glycerine, Mango Butter, Cocoa Butter, Organic Aloe Leaf Extract, Capuacu Butter, and Organic Preservatives.
Coffee flavor is available.
 Features:
100% Organic
Moisturisation for up to 12 hours
Non-sticky formula
Promotes Radiant & Glowing skin
Fight Acne & Pimples. Protect from Sunburn
Ideal for all skin types. Suitable for both Face & Body
Suitable for both men and women
Paraben-free, Mineral Oil free, and Cruelty-free
4. ShatPratishat Body Moisturizing Lotion Cedarwood (200ml), 325 Rs
Shat Pratishat Cedarwood & Neroli Fragrance Body Lotion contains a blend of all-natural, safe, and proven ingredients that retain moisture, remove dullness and keep skin fresh and nourished & fragrant.
Formulated with Aloe Vera Juice, Shea Butter, Coconut Oil, Glyceryl Monostearate, Glyceryl Stearate Citrate, Caprylhydroxamic Acid and Glyceryl Caprylate and Glycerin, Neroli Oil, Xanthan Gum, Cedarwood Oil.
Rose flavor is available.
Features:
100 % Organic, Vegan 

Non-Sticky, Non-Greasy, 24 hours moisturization formula, with quick absorption

Mesmerizing natural fragrance
Remove dullness and keep skin fresh and nourished
Suitable for all skin types
Free from Paraben, Sulphates, Silicon Artificial Color, Artificial fragrance, Synthetic chemicals
5. Nat Habit Stone Crushed Sunflower Skin Malai (100ml), 335 Rs
Nat Habit Body Skin Malai is a homemade moisturizer for the entire body. It is glycerin-free and prepared with fresh milk. It nourishes, moisturizes, and softens the skin to provide 24-hour protection.
Ingredients used Raw milk, Sunflower Seeds, Kasturi Manjal, Olive Cream, Cinnamon, Beeswax, Coshphagard (Ecocert), Sandalwood, lemongrass, Salt, and Aqua.
Other variants of it Multi nut Shea Omega 3 Skin Malai, Fig Rose Primal Light Skin Malai, and Double Coco intense Derma Care Skin Malai are available.
Features:
100 % Natural, Fresh made, Grandmas Secret
It softens, hydrates & nourishes skin to give 24 HR protection.
Tan, spot, and blemish removal
Intense repairs at night
Chemical-free, Glycerin free
6. Faith & Patience Signature Body Lotion - Kesar & Chandan (100ml), 399 Rs
Faith & Patience Signature Kesar and Chandan moisturizing blend in this natural body lotion. It keeps the skin's tone more even, smooths out the texture, and lessens inflammation.
Formulated with Camel Milk. Sweet Almond Oil, Avocado Oil, Shea Butter, Sunflower Oil, Hemp Oil, Water, Stearic Acid, Cetyl Alcohol, BTMS 50, Glycerine, Potassium Sorbate, Sodium Benzoate. Vitamin E Oil, Coconut Oil, Lavender Hydrosol, and Kesar-Chandan Essential Oil.
Features:
100 % Natural
Soften the skin texture
It gives Even skin tone
 Helps in avoid irritation
Suitable for all skin types 
Silicone-free, SLS & Paraben free
7. Rustic Art Organic Rose Bergamot Skin Cream | Face & Body Moisturizer (100ml), 440 Rs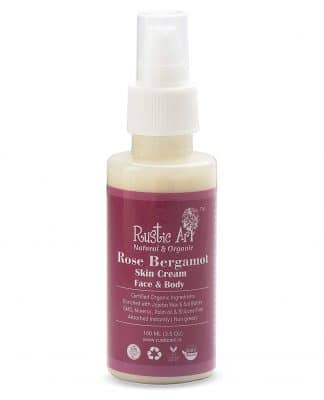 Rustic Art Rose Bergamot Skin Cream is an excellent moisturizer that will last all day and leave a soothing fragrance of sweet Rose and citrus Bergamot behind. It will make your skin feel as soft as silk.
Ingredients used Purified Aqua, Sesame Seed Oil, Sunflower Seed Oil, Hemp Seed Oil, Almond Oil, Jojoba Seed Oil, Fractionated Coconut Oil, Sal Butter, Diheptyl Succinate, Capryloyl Glycerin/Sebacic acid copolymer, Brassicyl Isoleucinate Esylate, Brassica Alcohol, Cetearyl Alcohol, Caprylhydroxamic Acid, Glyceryl Caprylate, Glycerin, Rosa damascena Flower Water, Veg. Glycerin, Sodium Pyroglutamic Acid, Palmarosa Oil, Bergamot Fruit Oil, L- Arginine, Vit E.
Blueberry flavor is available.
 Features:
100% Organic ingredients used
It is non-comedogenic and non-greasy

Nourishes & Moisturises the skin

Prevent redness, rashes, and acne

Suitable for all skin types

Artificial Colour Free, Chemicals-Free, Petroleum Free, Silicon free
8. PLANTAS 24 Hours Skin Hydrating Organic Body Lotion (Normal to Dry Skin) (100ml), 590 Rs
Plantas body lotion is made with only organic ingredients. It improves skin elasticity, resulting in soft, smooth, and youthful skin while keeping dry, dull skin at bay. relief from skin splitting or cracking.
Ingredients used Olive Oil, Acai Oil, Tocopherol, Refined Shea Butter, Cetearyl Olivate, Sorbitan Olivate, Purified Water, Glycerin, Golden Jojoba Oil, Grape Seed Extract, Aloe Vera, Hibiscus extract.
Other variants of it for  Extra Dry Skin, and Oily Skin are available.
Features:
100 % Organic, Vegan ingredients from organic farming
Enhances the suppleness, elasticity, and hydration of the skin
Relieves from cracking of the skin
Free from Paraben, GMOs, Artificial Color, Artificial fragrances, Artificial Preservative
9. Blue Nectar Ultra Hydrating Warm Vanilla Body Lotion (200ml), 695 Rs
The Blue Nectar Shea Butter Warm Vanilla Body Lotion contains 12 skin-loving herbs. It is a non-greasy, light body moisturizer with a sensual feel and aroma. creates a protective barrier that keeps moisture in and keeps skin from drying out.
Ingredients used Aloe-vera Gel, Licorice, Haldi, Manjistha, Ashwagandha, Virgin Olive Oil, Jojoba Oil, Mango Butter, Shea Butter, Cocoa Butter, Almond Butter, Warm Vanilla Sugar, Sodium Benzoate, Potassium Sorbate.
Features:
100 % Ayurvedic and Natural 
Non-Greasy, Lightweight & fast absorbing
Give Intense Hydration. Soften & smoothen rough patches. Helps in skin glow
Moisturize cracked heels
Free from harmful chemicals & Mineral Oil
10. Sadhev - Herbal Body Lotion (150ml), 715 Rs
Sadhev Body Lotion indulgent bottle gently hydrates and polishes the skin while meticulously repairing and restoring dry and rough regions, leaving the skin sensually radiant, extremely smooth, and incredibly alluring.
Ingredients used Almond nuts, Indian Aloe Vera, Indian Blue Water Lily, and White Damar.
Features:
100 % Ayurvedic, Vegan, and natural ingredients used from their farm
Dryness and discomfort are relieved
Bring skin oil back into balance
It calms and nourishes the skin
Reduces irritability and tightness
Paraben and Sulfate free
11. Forest Essentials Ultra-Rich Body Milk Madurai Jasmine & Mogra (50ml), 495 Rs
Madurai The Forest Essentials Travel Size Ultra-Rich Body Milk Jasmine & Mogra contains the purity and freshness of Jasmine and Mogra flowers, which have a delicate fragrance with sheer floral notes. It locks in moisture for a supple and plump appearance.
Formulated with Sweet Almond Kernel Oil, Kokum Butter, Alovera Leaf juice, Masoor seed Extract, Apricot Kernel Oil, Wheat Germ Oil, Rice Bran Oil, Neem leaf Extract, Mogra Flower Extract, Jasmine Flower Oil.
Soundarya, Mashobra Honey & Vanilla, Indian Rose, Prajakta, Nargis, Oudh & Green Tea flavors are available.
Features:
100% Organic
It softens, nourishes, and moisturizes the skin
Gives the skin luster while releasing the alluring scent of Madurai Jasmine & Mogra
Free of petrochemicals, parabens, and chemicals
Packaging that is environmentally friendly. convenient for travel