What is Ubtan?
Traditionally, Ubtans were made with a coarsely ground legume as the foundation. Ubtan does not completely eliminate the oil; rather, it removes surplus oil so that the skin does not become dry. Ubtans can be used on a regular basis as a daily cleanser, natural scrub, or weekly masque for decadent beauty regimens. During Diwali, there is a ritual of practicing Abhyangsana (application oil), a self-oil massage with an herb-infused to balance the dosha of the body done early morning before bath, followed by washing with an Ubtan. 
Abhyangsnan Importance Before Udhvrtan (Ubtan)?
Abhyangasnan should be done daily beginning with Diwali. There is slight dryness and vaat during Diwali due to the winter season. So we must perform oil massage to lessen the Vata qualities. Bhrihadataya refers to Charaksamhita, Sushrutasamhita, and Ashanghridaye. All of these writings provide descriptions of the Daily routine of life.
The daily schedule of Abhyanga is described in great detail in the book 'Ashtanghardaya' written by sage Vagbhatta. According to Vagbhtta, "Abhyangam Acharet Nityam." That means we must perform abhyanga (oil massage) every day. Our skin's top layer is lipophilic, which means it cannot absorb water but can absorb oil efficiently. According to the Samhita, Abhyanga (oil massage) is followed by Exercise and then Udvartan (Ubtan application). After that, you must have a Bath. Its purpose is to ensure that the oil you've applied has enough time to absorb. Allow this oil to sit for around 15-20 minutes. If people are unable to apply it to the entire body, they have designated certain locations where these abhyangas must be performed. That means you should put oil on your head, ears, and feet. If you can't do it in the morning, do it at night. 
Those with greater Vaat should perform Abhyayan with sesame and mustard oil. For Abhyang, we can also utilize medical oils like Narayan oil, Mahanarayan oil, Bala Tel, Lakshadi Tel, Chandan Tel, Chandan Bala Lakshadi Tel, and Ashvgandha Tel. Oils can also be chosen according to the season. We can use sesame oil in the winter and rainy season, and coconut oil in the summer.
Abhyanga Procedure (Oiling to the Body)?
Abhyanga oil is taken lukewarm, this increases its absorption and helps in reducing Vata. We must do this in Anulom Gati (hair direction) or Pratilom Gati (opposite hair direction). Obese people should do it in the direction of their hair. People who desire to gain weight or grow metals must do so in the opposite direction of their hair. When applying the oil you want to start from the base. After applying oil to the feet, oil should be applied to the abdomen, chest, and back and then to the neck, head, and the whole body.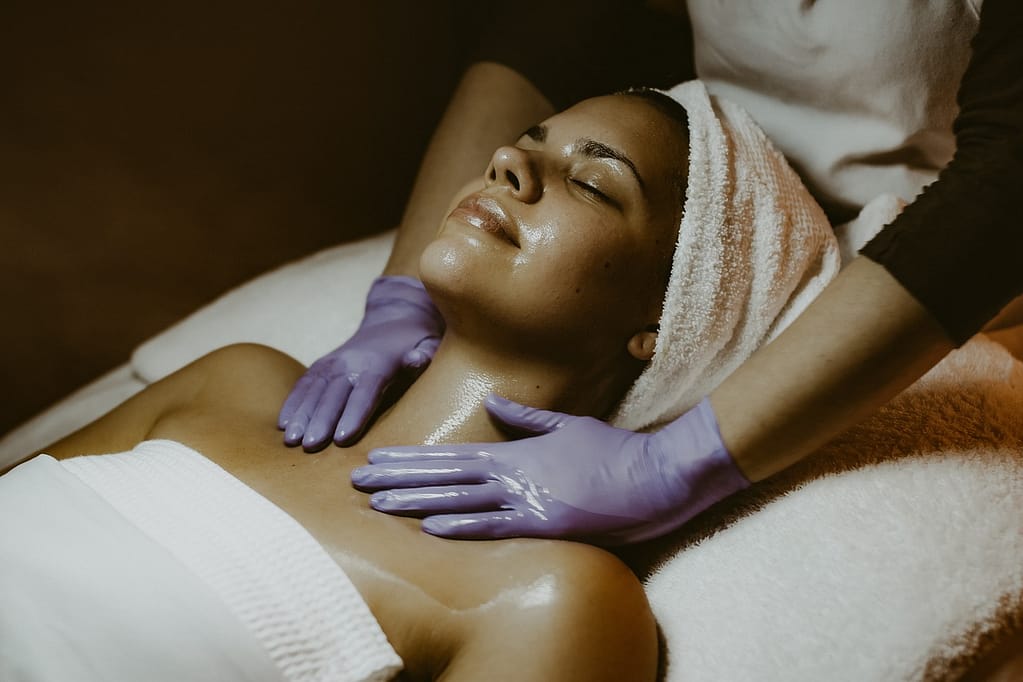 Ubtan Benefits?
Vata decreases
The odor of sweat disappears
Blood circulation in the body improves
Makes you young 
Clears vision

Strengthens the body and prolongs life

Induces deep sleep

Maintains the integrity of the skin and makes the muscles strong and toned


Who should avoid Abhyanga?
Those who have cold
Diseases caused by Kapha
After Panchakarma
In case of indigestion


How to Make Ubtan Powder at Home?
Ingredients:
Orange Peel Powder: It contains natural vitamin C and antioxidants, which nourish the skin and postpone the aging process.
Besan Flour/Red Lintel Flour or Rice Flour: This is an excellent cleaner. It gets rid of blackheads and whiteheads.
Multani Mati: It cleanses the face and removes blackheads.
Neem Powder: It is extremely therapeutic. It has antioxidant and antifungal properties.
Rose petal powder: It has a pleasant scent. It boosts college and makes the skin glow.
Chandan Powder: It has a strong scent. It gets rid of sunburn, wrinkles, dark spots, and pimples.
Amba Haladi Powder (Turmeric): It is known for its antiseptic qualities.
Reetha Powder: has soap-like qualities.
Kapoor Kachari Powder: This powder is generally used for hair growth. It is the most effective cleanser.
Nagarmotha Powder: Provides skin cooling.
Anantmul Powder: It makes the skin glow and brighten.
Vekhand Powder: Possesses numerous medicinal benefits. Good for Cough, cold, headache, or discomfort relief.
Vetiver: It soothes and clarifies blemished and irritated skin.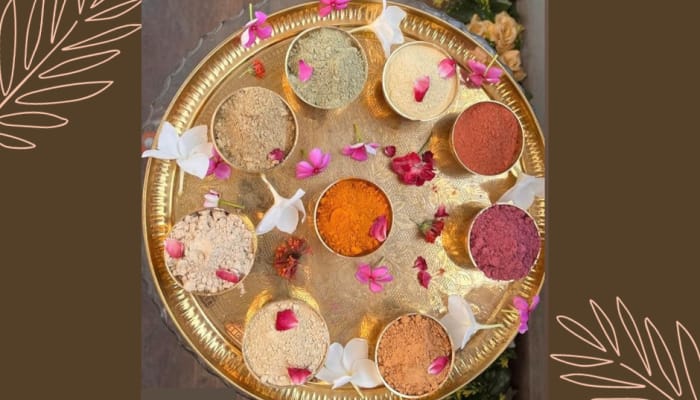 How to apply Ubtan to the Body/Face :
Step 1: Take an equal amount of all powder and mix it well. After thoroughly mixing the powder mixture, store it in an airtight container. Store the Ubtan in a glass jar with a wooden spoon. 
Step 2: Take the required amount of Ubtan Powder to make a paste. 2 teaspoons is sufficient. Add some water or raw milk to produce a thick paste.
Step 3: Apply to the entire body, then let it sit for five minutes. Wash it off with warm water.
Step 4: It can also be used as a dry scrub by scraping it on bare skin when it gets dry and then rinsing it off with water.