Are you looking for genuine Organic Mascara?
You are in the right place! I have made a list of the top genuine best organic Mascara. You get that easily available online.
Mascara is a popular makeup for enhancing the upper and lower lashes. It has the potential to darken, thicken, lengthen, and/or define eyelashes. According to Claudia Soare, president and creative director of Anastasia Beverly Hills, "fuller-looking lashes can help to give the eye area a more youthful appearance."
What's harmful in chemical-based Mascara?
Here are eight compounds detected in mascaras that are harmful to your health. Butylparaben, Ethylparaben, Propylparaben, Thimerosal, Synthetic Dyes, Coal Tar Dyes, Aluminum Powder, Retinyl Acetate (Vitamin A Acetate), Formaldehyde, and Imidazolidinyl Urea are only a few of the ingredients.
The chemicals in mascara can be harmful to your health: That mascara packaging is a bacteria breeding habitat. You can get a stye if you're not careful with it. Your eyes are also at risk. You risk losing your priceless lashes.
What can you use instead of Mascara?
If you find Black Mascara to be dominant and prefer Transparent Mascara, a simple hack is to apply pure Alovera Gel using a Spoolie brush. You will be amazed to see how really it works!
Here's what you need to keep in mind while applying Mascara
Twist the wand back and forth to remove it from the mascara tube. Wipe off any excess mascara on the tube's brim.
Apply this mascara to your upper and lower lashes starting at the roots.
Allow 1-2 minutes for it to dry.
If necessary, apply a second coat.
For maximum drama and intensity, repeat and layer up to three times.
Note: To check whether the product is really herbal or not, always check its ingredient on the pack before buying.
1. Zuii Organic Certified Flora Mascara, Granite (7g), 700 Rs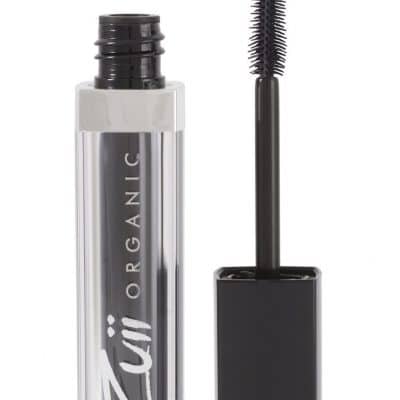 With its featherweight, smudge-proof consistency, the Certified Organic Vegan Flora Mascara will increase lash volume and length. This world-class mascara will leave a lovely sleek appearance with no flaking or clumping thanks to a formula that attaches to each individual lash. With each application, this powerful solution supports natural lash regeneration, giving you a fuller lash look every day.
Ingredients contain Aqua Glycerin, Alchohol, Geranium Flower Oil, Rose Flower Oil, Palmarosa Oil, Orange Peel Oil, Rosemary Flower Extract, Camellia Sinensis Extract, Alovera Juice,  Nettle Leaf Extract, Carnauba Cera, Cetearyl Alchohol Honeysuckle Extract, Tocopherol, Alginic Acid, Stearic Acid, Mica, Kaolin. May Contain (+/-) CI 77491 CI 77492 CI 77891 CI 77499.
For a Natural Eye look, Granite, Amethyst, and Ash shade.
For Bold and Vibrant Eye look at Emerald and Lapis shades.
Features:
The formula is both certified organic and vegan
Specifically designed for the most delicate eyes
Contains natural, nourishing nutrients
Both length and volume are provided
Promotes natural lash regeneration
Available in six different colors to match your particular style
2. Paul Penders Handmade Nourishing Mascara Botanical Vegan - Black (6ml), 600 Rs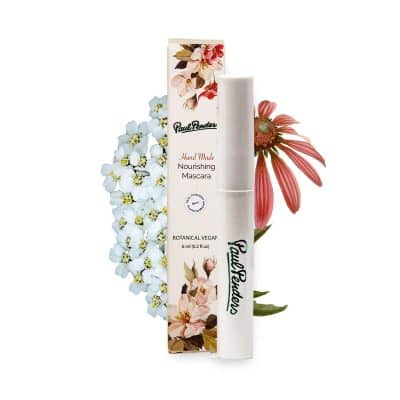 The best volumizing and lengthening mascara, Paul Penders Handmade Mascara contains Panthenol to thicken lashes. Your lashes will look bigger, darker, and more beautiful after only one application. It's free of parabens and alcohol.
Formulate with Aqua, Natural chalk, Theobroma cacao seed butter, Carnauba wax, Jojoba oil, Candelilla wax, Linseed seed oil, Glycerin, Xanthan gum, Grapefruit seed extract, Acrylate copolymer, Angelica, Arnica flower, Calendula flower, Chamomile flower, Elderflower flower, Ginger root, Ginseng root, Honeysuckle, Hops, Horsetail, Juniper fruit, Lavender flower, Lemon balm leaf, Nettle, Pennywort, Peppermint leaf, Rosemary, Sage, St. John's wort, Turmeric root, Witch hazel, Yarrow, Arabic Gum, Tocopherol acetate (Vitamin E), Panthenol (ProvitaminB5), Titanium dioxide (CI 77891), Iron oxide (CI 77499)], Caprylhydroxamic acid (amino acid) (and) glyceryl caprylate1.
Features:
Paul Penders soft, conditioning mascara is free of tar, alcohol, and petroleum-based ingredients, which can cause skin irritation and dryness
Panthenol is used to make lashes thicker
For an extreme volumizing effect, use Levens Essentie Gold
Black color is available
Animal testing was not conducted
100% vegan, cruelty-free, and EWG verified, with Halal certification
Free of phthalates, parabens, and SLS
3. Physicians Formula Organic Wear 100% Natural Origin Cc Curl + Care Mascara - Ultra Black, Black (11g), 764 Rs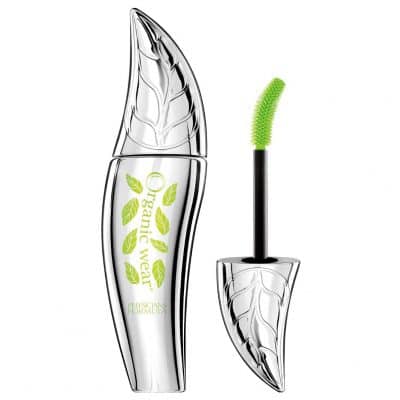 A volumizing and lengthening mascara that gives you a full lash look. With every brushstroke, this rich solution incorporates our Organic Lash. Boosting Complex and Organic Soybean to rapidly define and condition each lash. With ultra-soft plastic bristles, the recyclable Eco-Brush defines each last.
Ingredients contain Orange Fruit Water, Glycerin, Glyceryl Stearate Se, Water, Beeswax, Rice Extract, Tapioca Starch, Carnauba Wax, Rice Powder, Jojoba Esters, Stearic Acid, Microcrystalline Cellulose, Glyceryl Caprylate, Yogurt Extract, Leuconostoc/radish root ferment filtrate, Leuconostoc ferment filtrate, Soybean Oil, Magnesium Aluminum Silicate, Saccharomyces/Copper Ferment, Saccharomyces/Iron Ferment, Saccharomyces/Magnesium Ferment, Saccharomyces/Silicon Ferment, Saccharomyces/Zinc Ferment, Glycerin, Soybean Peroxidase, Superoxide Dismutase, Aloe Barbadensis Leaf Extract, Olive Leaf Extract, Cucumber Fruit Extract, Iron Oxides (ci 77499).
Features:
Hypoallergenic Fragrance-Free
Paraben-Free
Gluten-Free
Cruelty-Free
Fragrance-Free
Dermatologist Recommended Soybean Lengthens & Lifts Conditioning Serum
Recyclable Brush
Hypoallergenic
Clinically tested and ophthalmologist approved for sensitive eyes and contact lens wearers
4. Ruby's Organics Hybrid Mascara - Black (6.5ml), 800 Rs
Ruby's Organics Hybrid Mascara is designed to nourish and maintain your lashes as well as volumize and extend them, leaving no lash untouched. The black pigment in this mascara is made from vegetable carbon, which makes it unique (obtained from burning vegetable fiber). In contrast to carbon black, which is created by incomplete combustion of carbon-based compounds like coal tar and can cause serious health problems.
Formulated with DM Water, Montmorillonite And Cetyl Alcohol And Sucrose Distearate And Xanthan Gum And Sucrose Stearate And Sclerotium Gum, Magnesium Aluminum Silicate, Sunflower Wax, Glyceryl Stearate, Coconut Alkanes, And Coco Caprylate/Caprate, Undecane And Tridecane, Shea Butter, Kokum Butter, Jojoba Seed Oil, Caprylic Capric Triglyceride, Argan Oil, Candelilla Wax, Hydroxystearic/Linolenic/Oleic Polyglycerides (Vegetable Source), Carnauba Wax, Coconut Source, And Glyceryl Caprylate And Glycerin, Rosehip Oil, Vitamin E, Karanja Oil, Vegetable Carbon CI 77266. May Contain: [Iron Oxide Ci 77499]
Brown shade available.
Features:
Lashes are volumized, conditioned, and lengthened
Ecocert/COSMOS certified substances were used to make the black pigment
Vegan\sCruelty-Free
Silicone-free and microplastic-free
No artificial fragrances
No parabens or PEGs
There are no compounds derived from petroleum
5. SoulTree Ayurvedic Mascara - Black Colour, (6gm) 950 Rs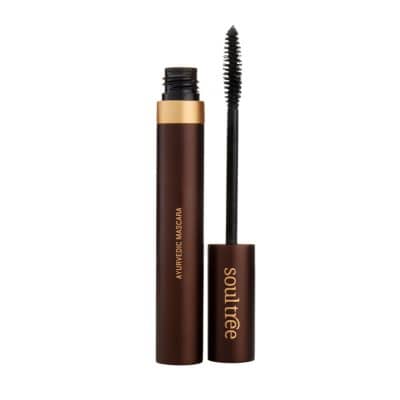 The ayurvedic mascara from SoulTree nourishes your lashes for a natural everyday look. It moisturizes and strengthens eyelashes while also encouraging growth and darkening them.
Formulated with Aqua, Glycerine, Castor Seed Oil, Beeswax, Aloe Vera Juice, Rose infusion, Sodium Citrate, Cocoa Seed Butter, Cetyl Alcohol, Olive Oil, Candelilla Wax, Isoamyl Laurate, Black Seed Oil, Tea Leaves ext, Tocopherol, Sodium Levulinate, Potassium Sorbate, Carnauba Wax, Almond Oil, Magnesium Aluminium Silicate, Glyceryl Caprylate, Xanthan Gum, Neem Seed Oil. May Contain CI 77491, CI 77492, CI 77499, CI77742, CI 77019, CI77891, CI 77007
Brown shade available.
Features:
Strengthens and encourages the growth of lashes
COSMOS, France, has certified it as "natural." Animal testing was not conducted
Castor oil hydrates and strengthens eyelashes, while black seed oil encourages growth and organic tea leaves color them
There are no Parabens, Silicones, Lead, DEA/TEA, Phthalates, SLS/SLES, Mineral oil, Petrolatum, or Fragrance in this product
Mascara should be applied to both your upper and bottom lashes
Allow 3-4 minutes for it to dry
For a more dramatic appearance, apply twice
6. Plum Eye-Swear-By Volume Mascara - 01 Black (6ml), 360 Rs
Plum Eye-Swear-By Mascara is a lightweight, buildable mascara with a powerful black pigment. The mascara's efficacy is maximized by the hourglass-shaped brush. With extra firm bristles, which volumizes, lengthens, and curls every single lash. And leaving no lash behind!
Formulated with Aqua, acrylates/Ethylhexyl Acrylate Copolymer, Stearic Acid, CI 77499, Propylene Glycol, Ozokerite, Carnauba Wax, Glyceryl Stearate, PEG-100 Stearate, Silica, Aminomethyl Propanol, Synthetic Beeswax, Cetearyl Alcohol, Phenoxyethanol, Xanthan Gum, Ethylhexylglycerin, Caprylyl Glycol, Tocopheryl Acetate, Olive Fruit Oil, Camellia Japonica Seed Oil, Zinc Hydrolyzed Collagen.
Brown shade available.
Features:
Instant curling, volume, and length
Dark black pigment
Waterproof, lightweight, and constructible
For a dramatic look, use a special hourglass brush
A tiny bit of camellia seed oil
100% vegan and cruelty-free!
As always, SLS and SLES free!
7. Lotus Make-Up Maxlash Volumizing Botanical Mascara - Intense Black (4gm), 276 Rs
The Maxlash Botanical Mascara is a water-resistant, volume-building mascara that creates the appearance of lusciously fluttering lashes while also giving your eyes much-needed volume. It comes with a special brush that caters to the needs of small and thin eyelashes.
Enriched with the botanical extracts of Symphytum Officinale leaf & Anugustifolia.
Brown shade available.
Features:
Contains witch hazel ingredients that nourish and protect the eyes
Is a mascara that adds volume and length to your lashes
Is smudge-proof and waterproof
It comes with a special brush that coats both thin and thick lashes evenly
It's also fragrance-free 
Gentle on sensitive eyes
( Ressources: Amazon, Google, The clean beauty box)