Are you looking for genuine Organic Compact Powder?
You are in the right place! I have made a list of the top genuine best Organic Compact Powder. You get that easily available online. Let's check out!
Compact Powder is squeezed into a pan and applied to the face to remove excess oil and sweat. It also provides light coverage and evens out your skin tone. You can do your base makeup with just concealer and compact powder on days when you want to go light on makeup.
What's harmful in Chemical-based Compact Powder?
Talcum powder contains the mineral talc, which can cause a slew of problems if it goes beneath your skin or into your eyes through an open wound. It can cause skin irritation and redness, and it's not good for your body.
Chemical-based Compact Powder contains Paraben, Methyl Pthalates: DBP, DEHP, DEP, DMP), Sulphates: Sodium Lauryl Sulphate & Sodium Laureth Sulfate (SLS) & Sodium Lauryl Ether Sulfate SLES, Parabens: Ethyl paraben, Methyl paraben, Butyl paraben, Propyl paraben, Mercury and Mercury compounds, Lead, Aluminum Cholordhydrate, and other heavy metals Chemical sunscreens (Oxybenzone/Benzophenone-3, Octinoxate/Octyl methoxycinnamate, Octisalate, Octocrylene, Homosalate), Resorcinol, Animal fat, Coal tar, Toulene, all of which are harmful to the skin.
Here's what you need to keep in mind while applying Compact Powder
On hydrated skin, apply your base makeup.
Using a puff/brush, apply a generous amount of powder.
Gently dab (not rub) the powder all over your face, focusing on your T-zone.
Note: To check whether the product is really herbal or not, always check its ingredient on the pack before buying.
1. Lotus Herbals WhiteGlow Flawless Complexion Compact - Rich Ivory (10gm), 225 Rs
Lotus Herbals White Glow compact powder is blended with botanical extract and corn starch to give your skin a smooth, matte finish that makes it look radiant. It contains green tea extract, which protects the skin from pollutants and free radicals. It also contains SPF 25, which protects your skin from the sun's harmful rays. This product will offer you perfect, even-toned skin and is a great addition to your kit.
It is formulated with botanical extract, Corn Starch, and Green tea extract.
03 shades are available. Also, another variant of it, Lotus Make-Up Ecostay Ideal Finish pressed powder, Lotus natural blend botanical compact powder, and Lotus Makeup Naturallblend SPF 1 Translucent Finish Loose Powder are available.
Features:
Chemical-free SPF 25
Corn starch offers your face a consistent and even look by integrating flawlessly with your skin tone and has anti-pollution properties
Have a lustrous, smooth finish
Excellent coverage by concealing your skin defects absorbs excess oil and delivers a matt look all-day
India is the country of origin.
2. Just Herbs Compact Powder Long lasting Mattifying & Hydrating with SPF 15 - Beige (9gm), 645 Rs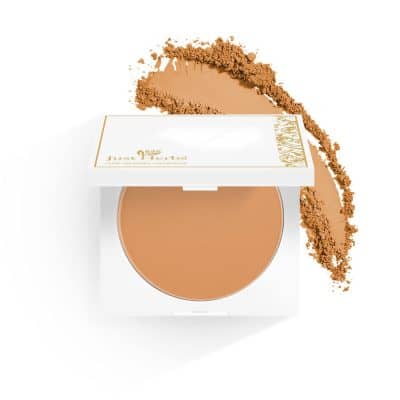 Just Herbs Compact Powder is a silky-smooth matte compact powder that is lightweight, mattifying, and moisturising. It contains rich Ayurvedic herbs that nourish and brighten the skin. For a'second-skin' finish, this tiny powder sweeps away excess oil and blurs the appearance of flaws. It mixes in perfectly with your skin for a soft-focus radiant effect. It maintains your skin hydrated, even-toned, and free of dryness and stickiness.
Formulated with fluorphlogopite, zea mays starch (corn-derived), rice starch, caprylic/capric triglyceride (coconut derived), zinc stearate, magnesium myristate, octyldodecyl stearoyl stearate, zinc oxide, titanium dioxide, ethylhexylglycerin, tocopheryl acetate (Vitamin E), sesame oil, mulethi, nagkesar, usheer, manjishtha, priangu, sweta chandan. May contain: CI 77491, CI 77492, CI 77499, CI 77891
06 shades available.
Features:
A lightweight finish with paraben, synthetic fragrance, and talc-free compact powder. Feel your skin even more with this mattifying moisturizer.
Rice starch, Jojoba oil, and Liquorice are pure Ayurvedic components that effortlessly mix into the skin, keeping it nourished and naturally beautiful
All skin types are suitable. A pore-minimizing compact powder that works for all skin types, including oily, dry, and combo skin
Lightweight, long-lasting, and heat-resistant
There are no creases or cakiness, only smooth skin
Get sun-kissed skin naturally. SPF 15+ sun protection is included to keep the sweat at bay
Non-dried
3. Born Organics Face Loose Powder - Dream Girl (Dark), 730 Rs
Born Organics Face Loose Powder is a 100 percent organic powder that provides an ultra-matte finish with a silky finish.
Formulated with Certified Bentonite, Organic Cocoa Powder, Organic Witch Hazel Leaf powder, Certified Zinc Oxide, Certified Caolin Clay, Certified Arrowroot powder, Organic Nutmeg oil, BON Pure Aloe Vera gel, Essential oils of Tea tree, geranium, Wild Rose, Lavender.
03 shades available. 
Features:
100%Handmade Organic Ingredients
Pore reduction
Sun protection (SPF 30)
Finish: Super Matte
Anti-Aging
4. Vert Nude Mineral Face Powder (10gm), 1295 Rs
Vert is an innovative face powder that can be used to set your makeup, balance out your skin tone, and provide light coverage. Use this stunning nude micro-fine face powder to level out your skin tone over foundation for an attractive matte finish. This mineral-rich powder will make you seem and feel regal, thanks to exquisite pearl tints that convey grace.
Formulated with Iron Oxides, French Clay, Jojoba Oil, and Calamine Powder.
04 shades available.
Features:
Shine-free finish, skin-tone evening, and light coverage
Vert Delicate Mineral Rich Micro-Fine Face Powder is for all skin types
Vegan
paraben-free
5. Ecoberry TIinted face Powder (For Everyday use) (15gm), 499 Rs
Even the most sensitive skin benefits from a mild, lightweight, 100 percent natural solution with organic components that helps to reduce the appearance of wrinkles and pores while also providing an overall perfecting effect. This smooth, light-weight tinted face powder provides light to medium coverage for a natural-looking everyday look. Use on its own or over a liquid foundation.
Formulated with Bentonite clay, Kaolin clay, Cold-pressed Jojoba oil, Champaca red Essential oil, and Vitamin E oil.
Features:
Cruelty-free
Bio-degradable
Not used abrasive chemicals
Eco-friendly
Free of parabens and formaldehyde
Preservatives free
6. Sandiva SPF Top-up Loose Powder with Sandalwood (22) (5gm), 500 Rs
Sandiva Loose Powder SPF Top-up In seconds, mattify greasy midday shines and stay bright, fresh, and sun-protected all day!
Formulated with Sandalwood, Zinc Oxide (and) Triethoxycaprylysilane, Mica and Silica, Dimethicone / Vinyl Dimethicone Crosspolymer (and) Silica, CI 77492, CI
04 shades available.
Features:
Mattifies sticky midday shine in seconds, leaving you looking bright, fresh, and sun-protected all-day
This is ideal for a quick touch-up
Fills in delicate lines with a soft-focus filler
Improved blue light protection from screens and indoor lights
No animal testing | vegan | no preservatives | no parabens | no sulfates | ethically sourced