Are you looking for Natural Sunscreen

?
You are in the right place! Here is the Best Natural Sunscreen. You get that easily available online.
The sun is most intense in India's tropical climate between 11 a.m. and 4 p.m. Because the amount of UV rays reaching the earth's surface has increased, prolonged exposure to them can cause sunburn, tanning, pigmentation, and, in rare cases, skin cancer. If you are out during this time, you should either cover yourself properly or wear sunscreen if necessary. Indian skin tone naturally contains more melanin than that of the western world. For people with Indian skin, experts advise using sunscreen with an SPF (Sun Protection Factor) of 15 to 30. Irresponsive use of sunscreen prevents 99% of vitamin D production, so use it only when necessary.
What's harmful in chemical-based Sunscreen?
There are two types of sunscreen: mineral and chemical. Mineral oxides are used in mineral base sunscreens to form a layer on the screen that acts as a UV ray barrier. Chemical-based sunscreen, on the other hand, like most commercial brands, uses synthetic chemicals to protect against UV rays. However, these chemicals are absorbed through the skin. As a result, it is essential to use a formulation that is free of harsh chemicals. These chemicals can cause skin irritation such as redness, swelling, irritation, and itching and can aggravate acne Eye irritation, hairy area pain, breast cancer, and pus in hair follicles. 
DIY Remedies:
You can use Oil as Sunscreen. India has a long history of utilizing pure oil as a sunscreen.
Coconut Oil SPF 8: Because of Ozone depletion, SPF 8 coconut oil may not provide long-term protection. It is still usable but must be reapplied at regular intervals.
Karanj Oil SPF 20+: It is a heavy oil bit greasy. Recommended for Normal to Dry skin. not for Oily skin.
Wheat Germ Oil  SPF 20: It is light oil. Possess hydrating properties. Remove excess oil that contributes to acne. Suitable for Oily skin & Highly recommended for Dry skin.
How to apply Sunscreen lotion:
First, generously rub some of it between your palms.
Apply to the face, neck, & other exposed parts 10 minutes prior to moving out in sun and while indoors.
Repeat the application after every 2 to 3 hours for best results.
Alternatively, you might combine a few drops of your foundation with the sunscreen lotion and apply it to your face.
Note: To check whether the product is really herbal or not, always check its ingredient on the pack before buying.
1. Bella Vita Day Glow SPF 30+ Sunscreen (100g), 244 Rs
Bella Vita Organic Day Glow Face & Body Lotion with SPF 30 is a multipurpose lightweight product that can be used on your face, neck, and body without leaving a white cast. It provides all-around UV protection and, over time, will improve your overall skin texture, making it smoother and brighter.
Ingredients used Aqua, Sandalwood oil, Saffron, Shea butter, Mango Butter, Licorice Root Extract, Rose Extract, Walnut Oil, Sweet Almond Oil, Aloe-Vera Extract, Vit B3, Vit C, Vit B5, Vit e, Glyceride, Zinc oxide, Essential Oils Blend, Potassium Sorbate, Sodium Benzoate.
 Features:
Natural & ayurvedic formulation
Defends skin against sun damage
UVA and UVB protection shields
Brightens skin and gives radiance by moisturizing
Protect skin from sun damage, prevent tanning, skin burns, skin inflammations, and even skin cancer
PABA and Paraben-free, Mineral oil-free, and Animal ingredient free 
2. Organic Harvest Sunscreen SPF 60 For All Skin Type (100g), 309 Rs
Organic Harvest SPF 60 Sunscreen with Blue Light Technology is a certified organic product made entirely of plant-based ingredients. The Sunscreen SPF 60 is an oil-free, quickly absorbing sunscreen that repairs damaged skin and shields it from UVA and UVB radiation with a broad spectrum of protection.
Other variants, Acne/Oily Skin SPF-60, Acne/Oily Skin SPF-30, SPF-30, SPF-50, SPF-60 Triple Action Formula are available.
Ingredients used Soybean Oil, Polyglyceryl-3 Diisostearate, Rice Germ Extract, Rice Extract: Blue Light Blocking Ingredient, Certified Organic Glycerin, Certified Organic Zinc Oxide, Aloe Vera Extract.
 Features:
100% organic
Matte Finish. Non-Greasy 
Water Resistant/Sweat Proof
Suitable for all skin types. Both men and women can wear it
PABA and Paraben-free, Mineral oil-free, and Animal ingredient free 
3. Just Herbs Jojoba + Wheatgerm Moisturising Sunscreen Gel SPF 35+ Pa++++ (50ml), 297 Rs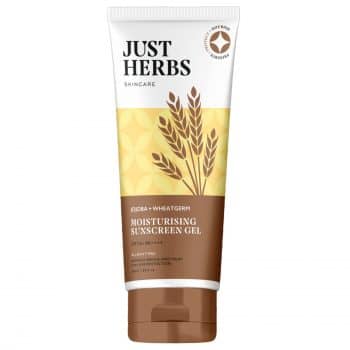 Just Herbs Ayurvedic Jojoba & Wheatgerm Moisturising Sunscreen lightweight Gel with SPF 35+ PA++++  provides Broad-spectrum UVA and UVB protection. In addition to keeping the skin hydrated and healthy, this also shields it from sun damage.
Other variants, Nosun Jojoba-Wheatgerm Moisturizing Sun Protection Gel SPF 35+ PA++++, Sun'nil Jojoba-Wheatgerm Moisturizing Sun Protection Gel SPF 35+ PA++++, are available.
Ingredients used Aloe vera Leaf Juice, Cold Pressed Jojoba Oil, Cold Pressed Wheat Germ Oil, Cold Pressed Grapeseed Oil, Green Tea Aqueous Ext., Fumitory, vetiver, Yashad, Shea Butter, Soy Lecithin, Psoralea Seed Ext., Purified Water, Cetearyl Olivate, Vegetable Glycerine, Octyldodecanol, Sorbitan Olivate, Caprylyl Glycol, Potassium Sorbate, Gluconolactone, Sodium Gluconate, Ethylhexylglycerin, Natural Preservative Blend of Herbs and Essential Oils.
 Features:
100% Organic, non-greasy
PA++++ offers protection against UVA sun damage, while SPF 35+ assists in blocking 97% of UVB rays
Gel consistency that absorbs quickly, ideal as a basis for makeup
leaves no white cast
This non-comedogenic, lightweight sunscreen penetrates your skin's layers deeply without clogging your pores, preventing outbreaks
Suitable for kids
Free from harmful chemicals
4. Nake Organica Carrot Sunscreen SPF40 PA+++ (50g), 400 Rs
Nake Organica moisturizing day cream is made with certified organic ingredients and absorbs quickly. It contains carrot seed extract, which makes it skin-friendly. Vitamins B5, C, and E are also included, as well as sun protection.
Formulated with Carrot, Zinc oxide, Shea Butter, Almond Oil, and Zinc Oxide.
 Features:
Ingredients are 100% vegan and made from plant-derived organic bio-actives combined with plant extracts
Provides indoor and outdoor protection from damaging UV rays and blue light
Aids in the recovery of burnt skin
keeps the skin properly nourished and hydrated
Maintains Complexion and Smooths Skin Even
Protect Against Visible Signs of Early Aging Lowers Cancer Risk
Suitable for all skin types
Free from Sulfates, Genetically modified synthetic ingredients
5. Natural Vibes Sunscreen Lotion | SPF 30 + (30ml), 449 Rs
Natural Vibes is a sunscreen lotion with anti-pollution that is waterproof indoors and out. You will be protected from blue light and UVA/UVB rays by this sunblock's triple functions. Sunscreen will protect your skin by forming a barrier that will stop toxins from clogging your pores and blocking the toxins from damaging your skin. Radiation-causing free radicals will be reduced, and it will combat sun damage.
Formulated with Aloe vera, Wheatgerm oil, Yashad Bhasma, Papaya, Jethimadh, Tea Tree Oil, Carrot Seed Oil, Amla, Peach, Lemon Peel, and Orange, Sugandhi Dravya Natural Sunblock Lotion Base.
 Features:
Plants based ingredients
Non-Greasy, Soothing, and Hydrating
Blue light protection and indoor, outdoor, and water resistance
Protection from UVA/UVB rays
Ultra-Light, Non-Greasy, and Without a White Cast or Tint
Pollution-Reducing Lotion
Both non-irritating and non-comedogenic
Suitable for all skin types
6. Faith & Patience Pina Colada Sunscreen- SPF 50 | PA++ (50ml), 499 Rs
Faith & Patience Pina Colada Sunscreen protects the skin from the sun's damaging UVA/UVB rays by the Sun Fluid SPF 50 | PA++. It boosts sun protection, shielding the skin from premature aging and further environmental damage.
Formulated with Coconut milk, Pineapple extract, Aloe Vera, Witch hazel, Sweet almond oil, Jojoba seed oil, Rice bran oil, Coca Butter, Bees Wax, BTMS-50, Octocrylene, OMC, Octyl Salicylate, Zinc Oxide, TiO2, Sodium Benzoate, Glycerin, Potassium Sorbate, Coconut essential oil, Lavender essential oil. Pineapple oil.
 Features:
100% Organic
Broad-spectrum defence
Moisturizing, Anti-Aging
Non-Sticky
7. Plantas Organic Sunscreen SPF 50 (30ml), 590 Rs
Plantas Organic Sunscreen is rich in organic components. This sweat-proof product aids in hydrating, mending, and regenerating the skin from UV damage, giving your skin a matte-finished appearance.
Another variant of ti SPF 30 is available.
Formulated with Penta Clethra Macroloba, Seed Oil, Tocopherol, Refined Shea Butter, Acai oil
Purified Water, Zinc Oxide, Cetearyl Olivate, Sorbitan Olivate, Lotus Flower extract, Bamboo extract, Aloe vera, Cucumber extract, and Superoxide Dismutase.
 Features:
100% Natural. 95.52% of the total ingredients are from organic farming.
Gives a matte-finished look 
Sweat-proof formulation
Moisturize, repair, and heal the skin from the damage caused by UV rays
Vegan, GMO-free, No artificial color & Fragrance, Paraben free, Sulfate free, Mineral free, Phthalate free, No artificial preservative, Cruelty-free, Eco-friendly packaging
8. Blue Nectar Niraa SPF 30 Sunscreen (200ml), 633 Rs
Blue Nectar Niraa Cocoa Butter Body Lotion with SPF 30 PA++ is a sun protection cream with a broad spectrum. It illuminates the skin and shields it from the sun's damaging UVA and UVB radiation. There are 12 skin-loving herbs in this ultra-hydrating body lotion. It also helps lighten skin and give skin a glow and vitality.
Ingredients used Aloe Vera Gel, Licorice, Haldi, Manjistha, Ashwagandha, Virgin Olive Oil, Jojoba Oil, Organic Glycerin, Cream Base, Mango Butter, Shea Butter, Cocoa Butter, Almond Butter, Nargis, Sodium Benzoate, Potassium Sorbate.
 Features:
100% Organic, Light, Non-Greasy Non-Chalky, Non-Patchy Body lotion
Reduce the chance of sunburn
Protects against tanning & pigmentation
Brightens the skin. Keeps skin even tone
Moisturizes & Nourishes Skin
Free from harmful chemicals
9. Sadhev Sunscreen SPF 30 (75ml), 1175 Rs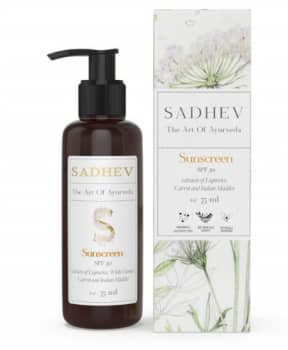 Sadhev Sunscreen formula was inspired by the pre-Mughal era. Women of Indian royalty who practised martial arts during the pre-Mughal era were said to use a body concoction made of Madhuyashthi and Indian Madder. Throughout the day, it keeps the skin remarkably soft and supple. Its age-defying essence protects the skin's delicate texture, minimises fine lines and blemishes, and keeps the skin shining.
Formulated with Liquorice, Zinc Oxide, White Damar, Carrot, and Indian Madder.
Preservative: Undecylenoyl Glycine, Capryloyl Glycine, Benzonic acid.
Q.S. Base Made with Natural Vegetable Oils, Emulsifiers, Emollients and Perfume- QS.
 Features:
Handpicked ingredients used are organically grown and ethically sourced from their very own farm Sadhevana.
SPF 30 shields the skin from the sun's harmful rays
Makes Skin hydrated and smoothed, which aids in fading blemishes and dark spots
Prevents pigmentation on the skin
Repairs skin tissues
Suitable for all skin types
Paraben & sulphate free
10. Juicy Chemistry Camellia & Red Raspberry Sunscreen SPF 30 and PA+++ (25g), 650 Rs
Juicy Chemistry organic sunscreen effectively scatters and reflects back UV rays to offer broad-spectrum protection. The formula's abundance of fatty acids also aids in moisturizing and nourishing the skin.
Ingredients used Sunflower Seed Oil, Zinc Oxide, Shea Butter, Beeswax, Raspberry Seed Oil, Camellia Seed Oil, Tocopherol, and Vitamin E. 
 Features:
100% Natural from Organic farming
PA+++ and SPF 30 security
The formulation is non-comedogenic and water-resistant
Aids in lowering oxidative stress
Strengthens the barrier while moisturizing the skin
Sulfate-free, No Synthetic Fragrance, Cruelty-free and Vegan