Are you looking for Natural Nail Polish Brand?
You are in the right place! I have made a list of the best Natural Nail Polish brands. You get that easily available online.
Nail polish is a thick lacquer or enamel that is applied to the nails to paint and beautify them. It's a liquid lacquer that gives fingernails and toenails a neat, sophisticated look when applied. The numerous finishes of nail polish available online include matte, glossy, duo-chrome, metallic, glitter, and creme. Natural nail paints are better for your nails in general because of the high quality and lack of several dangerous toxins found in regular nail polishes. You can maintain your stunning appearance while staying healthy. Natural polishes are also scratch-resistant and water-resistant.
What's harmful in chemical-based Nail Polish?
Since the majority of nail polishes on the market have been rarely tested for safety and are used by the majority of us on a regular basis. Many of our children use these quiet harmful nail paints, which might cause health problems.
Formaldehyde resin, dibutyl phthalate, and toluene, among other toxic substances found in chemical-based nail polish, can induce allergic contact dermatitis. Camphor is an oil that has long been used as a topical treatment for a variety of ailments, but it is poisonous if swallowed. Constant contact with hazardous nail paints and other nail care products can cause a variety of health concerns, ranging from minor irritation, allergic responses, and nausea to more significant issues such as respiratory problems, cancer, and reproductive issues. Studies have shown that chemicals in nail polish have been demonstrated to be absorbed into the body.
Here's what you need to keep in mind while applying Nail Polish
To mix the nail paint, rotate it between your palms. To avoid air bubbles, don't jiggle it.
Allow one color layer to dry completely before applying a second.
Nail Enamel Remover can be used to remove polish smudges.
Soak your wet nails in freezing water to speed up the drying process.
Note: To check whether the product is really herbal or not, always check its ingredient on the pack before buying.
The nail polishes mentioned here are not 100% chemical-proof but free from harmful chemicals. It's difficult to get pure 100% natural products.
1. BlushBee 12 Free Vegan Nail Polish - Metallic Aqua (11ml), 195 Rs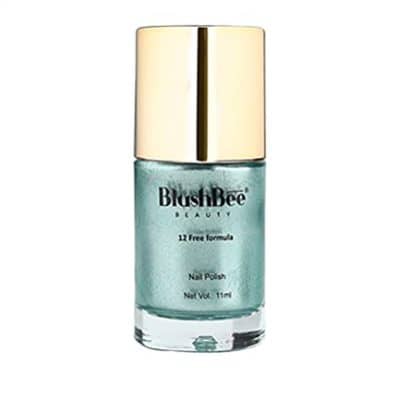 BlushBee Nail Polish has Hi-shine and Metallic hues to suit every mood, dress, and event.
Formulated with Shea Butter, Cocoa Butter, Coconut Oil, Olive Oil, Tulsi Leaf Oil, Turmeric Root Extract, Avocado Oil, Ashwagandha, Sunflower Seed Oil, Mango Seed Butter, Rosemary Oil, Vitamin E, Castor Oil, Candelilla Wax, Carnauba Wax, Propolis Extract, Rose oil, Hydroxy Ethyl Cellulose, Ozokerite wax, Sorbic acid, Caprylic/Capric Triglyceride, Cetyl Alcohol, Ocimum Sanctum Leaf Extract, Mica, Glyceryl Caprylate, Glyceryl Undecylenate, Aloe Barbadensis Leaf Extract, Green tea leaf extract.
20 shades are available. 
Features:
Toluene, DBP, Formaldehyde, Camphor, Formaldehyde Resin, parabens, Xylene, Ethyltosylamide, Sulphates, Phthalates, Triphenyl Phosphate, and Triclosan are among the 12 Big toxic Free ingredients
Metallic and high-shine hues
Vegan and cruelty-free nail polish collection featuring a fast-drying, long-lasting consistency
2. Iba Argan Oil Enriched Breathable Nail Color - B01 Toasted Almond (9ml), 175 Rs
Iba Breathable Nail Color has a specific molecular structure that allows both oxygen and moisture to enter your nails, keeping them moisturized, fresh, and beautiful. The nails suffocate, dry out, yellow, and chip as a result of an impermeable coat of pigment. However, the argan oil-enriched, long-lasting, and quick-drying composition of Iba Breathable Nail Color helps to maintain your nails healthy, long, and strong.
Formulated with Ethyl Acetate, Butyl Acetate, Nitrocellulose, Adipic Acid/Neopentyl glycol/ trimellitic anhydride copolymer, Acetyl Tributyl Citrate, Sucrose Acetate Isobutyrate, Dimethicone, Argania Spinosa Kernel Oil, Trimethylsiloxysilicate, Mineral Colors.
26 shades are available. You can buy through Iba's website.
Features:
Argan oil is rich in nutrients that promote stronger and healthier nails
Air and water may pass through the nail color thanks to a revolutionary long-lasting breathable composition (wash for at least 30 seconds)
No need for a base coat; apply directly to the nails
Long-lasting nail color that dries quickly
There is no yellowing, chipping, or dinginess
Halal certification worldwide Saudi Arabia's IHI Alliance has certified it
Wuzu Friendly
Free of 12 potentially hazardous substances (does not contain alcohol, parabens, acetone, phthalates, toluene, formaldehyde, formaldehyde resin, camphor, xylene, ethyl tosylamide, triphenyl phosphate, or gluten)
Developed in France
3. Disguise Cosmetics Happy Healthy Nail Polish - Mint 118 (9ml), 150 Rs
While the application of Disguise Nail Polish is simple, you may now have a gel-like gloss finish as well as stronger nails in only one swipe! This proprietary product repairs the nail surface while also providing long-lasting gloss. This recipe is also vegan, cruelty-free, and free of the 15 toxins commonly found in nail polish. And everything is covered, from reds and pinks to nudes and pastels!
Formulated with 3 AHAs (Lactic Acid, Glycolic Acid, Malic Acid) Complex, Lotus Extract.
21 shades are available. 
Features:
A pigmented nail lacquer with a unique formula that provides two benefits in one
Gives a long-lasting, glossy gel-like shine
Contains lotus extracts and three alpha-hydroxy acids
Aids in the rejuvenation, strengthening, and restoration of the natural nail surface
Chip-resistant solution that lasts 3-5 days without chipping
With two applications, you can get the greatest results
15 poisons are absent
Vegan and cruelty-free
4. MyGlamm Wandurlust Matt Chrome Nail Paint- Maui (11ml)107 Rs
The MyGlamm Wandurlust features a chrome matte finish, a smooth, velvet feel, is cruelty-free, and dries quickly. This highly pigmented, full-coverage chrome matte nail paint gives your fingertips a velvety, sophisticated finish. It's a new generation of nail enamel that's Designed for the fashion-forward traveler. This highly pigmented, full-coverage chrome matte nail polish provides your fingertips with a velvety, elegent finish.
Formulated with Ethyl Acetate, Butyl Acetate, Nitrocellulose, Saturated Polyester Resin, Non-Settling Gel, Acetyl Tributyl Citrate, Benzophenone-3, N-Butanol, May Contain: CI 15880:1, CI 42090:1, CI 77891, CI 15850:1 Colors.
15 shades are available. 
Features:
12 toxic chemical-free formula
Matte chrome finish
Perfect velvet texture
The color payoff is strong
Quick-drying
It only takes three strokes to apply it
Non-staining
No animal testing, cruelty-free
5. Plum Color Affair Nail Polish - Lilac Dawn - 132 (11ml), 150 Rs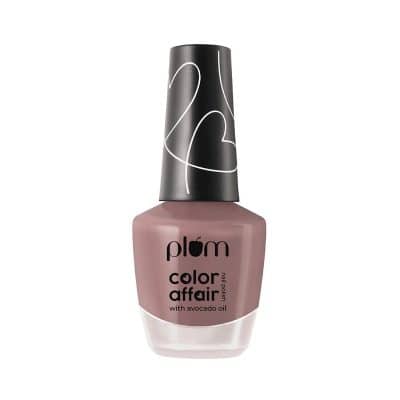 Plum Color Affair Natural Nail Polish comes in a variety of stunning colors with great gloss and color payoff that will keep your nails looking freshly manicured all day!
Formulated with Butyl Acetate, Ethyl Acetate, Nitrocellulose, Adipic acid/Neopentyl Glycol/Trimellitic Anhydride Copolymer, Isopropyl Alcohol, Acetyl Tributyl Citrate, Stearalkonium Bentonite, Dipropylene Glycol Dibenzoate, Acrylates Copolymer, n-Butyl Alcohol, Diacetone Alcohol, Silica, Phosphoric Acid, Avocado Oil, Tocopheryl Acetate, Benzophenone – 1.
24 shades are available. 
Features:
A nail polish formula that is 7-free ( does not contains Toluene, Dibutyl Phthalate, Camphor, Free Formaldehyde, Formaldehyde Resin, Ethyl Tosylamide, Xylene)
Avocado Oil and Vitamin E are added as needed
The high-gloss formula lasts for days after application
High color payoff and plump finish
The nail polish formula is chip-resistant, non-yellowing, and non-staining
The brush has a wide and curved edge for broad coverage and easy application
As always, 100% vegan and cruelty-free!
Nothing but love, safe ingredients, and nothing else!
6. Nykaa Breathable Nail Enamel - Peach Pause (9ml), 189 Rs
Nykaa Breathable nail paint is made with innovative oxygen technology that allows air and water vapor to pass through. Gloss Enhancing Polymers are used to ensure long-lasting wear.
22 shades are available. 
Features:
14 Harmful Chemicals are not present. (Contains no Triphenyl Phosphate, Formaldehyde, Camphor, Formaldehyde Releaser, DPHP, Toluene, Series E Glycol Ether, DBP, Perfume Ingredients, Paraben, Silicon, Tosylamide, Bisphenol A, Phenoxyethanol)
Allows for the passage of oxygen and water. Long-lasting shine and color payoff
Dry time is reduced by 30%
Knock- and shock-resistant