Are you looking for Herbal Hair Oil for Hair Growth?
You are in the right place! Here is the Best herbal hair Oil. You get that easily available online.
Hair Oil is also an important part of the health care routine as food & water. The Marmas (the important spots of convergence) in our heads can be healed by a good hot oil head massage. Additionally, it can aid in balancing the vital energy (Vayu), which serves as the catalyst for all bodily functions and contributes to a healthy mane. Furthermore, a hot oil head massage promotes root flexibility, lubricates the scalp, and conditions the hair. Natural hair that is glossy and healthy as a result. The hair Oiling technique, which has been practiced for generations in India also suggested by Ayurvedic medicine. Beyond Ayurvedic traditions, many people utilize hair oiling to preserve the health and radiance of their hair.
What's harmful in chemical-based Oil?
Most hair oil brands contain very few natural ingredients and the major ingredient is Mineral Oil. An over-the-counter chemical product called mineral oil is created from naturally occurring, unrefined petroleum. It causes Allergic reaction, scalp irritation, eye irritation, and acne. Nonmelanoma skin cancer has been linked to employment exposure to mineral oil. It is associated with scrotal cancer in particular. 
How to use Oil on the scalp for hair growth:
Warm the hair oil. With fingertips massage it into the hair follicles.
Allow the oil to permeate your scalp overnight.
As part of your hair care routine, wash your hair with herbal shampoo.
Use this routine twice each week.
Note: To check whether the product is really herbal or not, always check its ingredient on the pack before buying.
1. Bella Vita Growth Protein Hair Oil (200ml), 233 Rs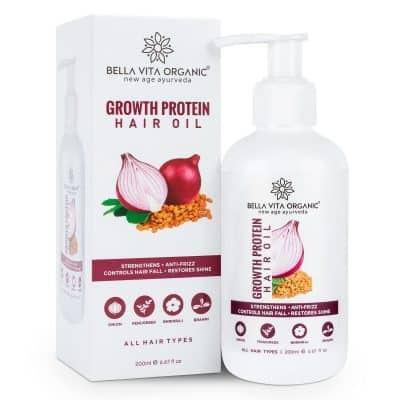 Bella Vita Growth protein hair Oil is created from Indian Ayurveda a miraculous hair oil, which has been used for years with positive results. Numerous hair issues, including baldness, scalp infections, dryness, itching, thinning, breakage, dandruff, and dullness are managed by this special solution. It helps to restore & revive damaged hair because it is high in natural caffeine and antioxidants. Your hair will get smoother with repeated use.
Ingredients used Sunflower Oil, Coconut Oil, Castor Oil, Olive Oil, Flax Seed Oil, Almond Oil, Grape Seed Oil, Avocado Oil, Jojoba Oil, Argan Oil, Onion Seed Oil, Black Seed Oil, Fenugreek Extract, Vitamin E, Bhringraj, Brahmi, Amla, Baheda, Shikekai, Mulethi, Jatamansi, Indrayn, Ashwagandha, Kutaj, Rosemary Oil.
 Features:
Certified Natural ingredient
Hair Regrowth Tonic

Strengthens hair

Controls hair fall

Improves overall hair & scalp health

Repairs split ends, damaged and dry hair, and frizz. Restore shine
For all hair types
Paraben & Sulfate-free, Cruelty-free
2. Sesa Onion Hair Oil with Bhringraj (200ml), 340 Rs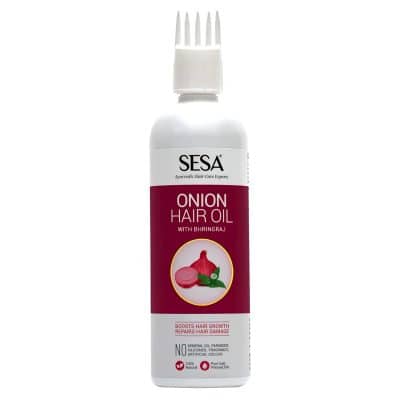 Sesa Onion Oil with Bhringraj is a completely natural hair oil that promotes hair growth while also preventing hair thinning and falling. This potent natural combination repairs hair damage and improves hair texture when used on a regular basis.
Ingredients used Sunflower Oil, Olive Oil, Castor Oil, Jojoba Oil, Almond Oil, Onion Oil Extract, Coconut Oil, Gudhal Oil Extract, Brahmi Oil Extract, Bhringraj Oil Extract, Curry Leaves Oil Extract, Grape Seed Oil, Carrot Seed Oil.
Other variants of it, Rice Hair Oil with Methi & Hibiscus, Strong Root Hair Oil, Anti-hair Fall Oil, and Vitaliser for Men are available.
 Features:
100% Natural & Pure cold pressed oils

Deeply nourishes hair and scalp while also strengthening follicles
It promotes hair growth and revitalizes damaged hair. 
Balance PH. Prevent hair fall, thinning, split end
It delays premature hair greying

Suitable for all hair types for both men and women

Safe for color and chemical-treated hair

No Mineral Oil, No Paraben & No Artificial Colour and Fragrances
3. Indus-Valley Hair Growth Oil (100ml), 160Rs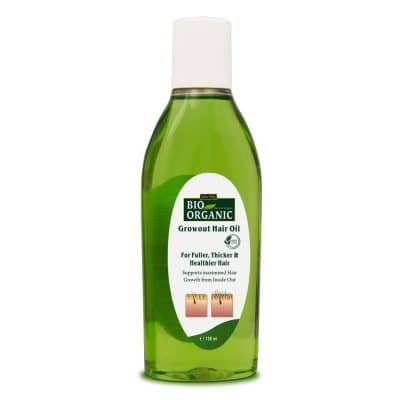 Indus Valley Bio-Organic Growout Hair Oil is a pure and natural hair growth oil. It is made up of 11 essential and super-exotic hair care herbs that help reinforce the hair roots while nourishing the scalp. It encourages maximum hair development and enhances hair health in general.
Ingredients used Sunflower Oil, Thankuni Leaf Extract, Bhringraj Leaf Extract, Nagarmotha Root Extract, Haritaki Fruit Extract, Nettles Leaf, Extract, Onion Root Extract, Jatamansi Root Extract, Hibiscus Flower Extract, Clove Oil, Grape Seed Oil.
 Features:
100% natural and pure.
Non-greasy and light-weight
Improves hair growth by stimulating the hair roots
Increases hair growth and strengthens hair follicles
Decreases hair loss and breakage
Maximizes the natural luster and volume of hair
Decreases flakiness, itching, and dandruff on the scalp
Reduces dryness, frizz, and split ends
Restores hydration, providing hair elasticity and silkiness
Unisex, suitable for all skin tones
Cruelty-free and vegan
No added chemicals like parabens and sulfates
4. Just Herbs Bhringraj Tail (100ml), 273 Rs
Just Herbs Bhringraj hair oil is an all-in-one solution for hairs. It prevents hair loss and encourages hair growth. The cold-pressed coconut and sesame oils used to make Bhringraj Oil for hair growth serve to increase the health, shine, and strength of your hair. 
Ingredients used Bhringraj, Sariva, Brahmi, Amla Ext., Manjishtha Ext., Nagarmotha, Harad, Baheda, Kachur, Lodhra, Babchi, Henna, Mandur, Padmkashth, Mulethi, Khareti, Priangu, Sandal, Ashwagandha Ext., Cold Pressed Extra Virgin Coconut Oil, Cold Pressed Til Tailum.
 Features:
It encourages hair growth
It lessens dandruff's visibility
Helps to hydrate the scalp, which strengthens the roots
It prevents hair from going grey and turns it naturally black
Makes the hair glossy and shiny
Free from harmful chemicals. Cruelty Free
5. Pallava Organics Advanced Onion Bhringraj Hair Oil (100ml), 312 Rs
Pallava Organic Hair Oil is a reviving and shielding concoction of organic, natural oils to condition, strengthen, and fix hair roots, scalp, and hair.
Ingredients used Bhringaraj Leaf Extract, Hibiscus Flower Extract, Amla Fruit Extract, Onion Seed Oil, Neem Seed Oil, Black seed Oil, Rosemary Leaf Oil, Peppermint Oil, Sweet Almond Oil, Argan Oil, Jojoba Seed Oil, Olive Oil, Lavender Oil, Aloe Vera Extract, Extra Virgin Coconut Oil
 Features:
99% of the total ingredients are from organic farming
Promotes hair growth
Revitalizes dull hair. Restores scalp health
Enhances hair texture and volume
100% natural origin of total. COSMOS ORGANIC is certified by Ecocert Greenlife according to COSMOS standards
Australian Certified
Toxic chemical-free, Sulfate-free, Alchohol free, Pesticides free, No GMO, Cruelty-free, Vegan
6. Himalayan Origins Hibiscus Hair Oil (100ml), 354 Rs
The family formula used to make Himalayan Hibiscus Hair Oil has been handed down from generation to generation. By reaching far within the shafts and minimising damage brought on by chemical treatments and environmental stress, it combines the goodness of fresh herbs and botanicals to offer you hair that will shine with good health and repair them from within.
Ingredients used Hibiscus flower, Rosemary, Kadi Patta, Amla, Shikakai, Coconut oil, Sesame oil, Almond oil, Neem Oil, Neem, Fenugreek, Nettle Leaf, Indigo Leaf, Bhringraj, Ashwagandha, Reetha, Brahmi.
 Features:
100% Natural, Handmade product
Help to reduce hair fall, and hair breakage,
Promote healthy hair growth and also reduce premature greying
Suitable for all hair types
Sulfate-free, No artificial fragrance, Cruelty-free
7. Blue Nectar Briganantadi Hair Repair and Treatment Oil for Hair growth (100ml), 395 Rs
In just five applications, Briganantadi Hair Repair Oil has been clinically proved to strengthen hair. By addressing dry, damaged, and dull hair, it aids in preventing hair loss. Nine potent Ayurvedic herbs have been utilised for millennia with success.
Ingredients used Coconut Oil, Sesame, Bhringraj, Amla, Neel Patra, Mulethi, Malkangani, Rosemarinus, Lavender.
 Features:
100% Natural and Ayurvedic Hair Oil
Clinically proven to strengthen hair in 5 applications
Strengthens thin and weak hair, leaving them fuller & healthier
Less frizz, helps in making smoother and shinier hair
Fight against dandruff, itchiness & dryness. Control hair fall
Paraffin Free/ Mineral Oil / SLS Paraben Free
8. Indulekha Bringha Hair Oil (50ml), 219 Rs
Indulekha Bringha Oil is an ayurvedic medicine that is clinically proven to stop hair loss and promote hair growth. This pure Ayurvedic oil, enhanced with Bringharaj and ten other herbs, revitalizes your roots to promote hair growth. Selfie combs are special in that they make it simple to apply the oil directly to the scalp, allowing oil to reach deep inside the scalp without contaminating your hands.
Ingredients used Grape, Amla, Almond, Curry leaves, Indrayava, Neem, Aloe Vera, Coconut Oil, Mulethi, Amrita, Brahmi, Camphor, Kshiram, Bhringraj.
 Features:
100% Ayurvedic Oil
Exclusive Ayurvedic Medicine
Clinically Proven on Real Men & Women to Grow New Hair and Reduce Hair Fall
Experts in Ayurveda recommend it
It comes with a unique comb applicator for direct application to the scalp
Parabens, sulfates, silicones, synthetic colors, and synthetic fragrances are entirely absent
9. Vilasa Keshwardhak Hair Oil (150ml), 549 Rs
The Keshwardhak Hair Oil by VILASA is fantastic for promoting long, healthy hair. A treatment to stop the hair loss before it starts, soothe dry scalp, and provide deep hair nourishing. 
Formulated with Coconut oil, Rice Bran Oil, Awla Swaras, Brhingraj Swaras, Behda, Hirda, Gokharu, Jeshthmadh, Mayfal, Loha Mandoor, Shivanmool, Vekhand, Heena, Gunja, Natural fragrance (Lavndin + Patchouli).
 Features:
100% Vegetarian, Ayurvedic reciepe
Decreases hair loss and encourages hair growth
Fights dandruff buildup & enhances the health of the scalp
Reduces itching and dryness of the scalp
Results in enhanced hair texture
No Parabens, no Sulfates, mineral oil-free, GMO-free, Cruelty free
10. Organic Harvest Rosemary Hair Oil (150ml), 599 Rs
The 100% natural ingredients in Organic Harvest Rosemary Hair Oil result in thick, lustrous hair while also promoting hair regrowth and preventing hair loss by providing nourishment to the hair root. This oil promotes hair roots, treats dry hair, and repairs damaged hair follicles.
Ingredients used Organic Rosemary Essential Oil, Sunflower Oil, Virgin Coconut Oil, Rice Bran Oil, Organic Baobab Oil, Grape Seed Oil, Basil Oil, Lavender Oil, Omega Plus & Vitamin E.
 Features:
100% Organic Hair Oil
Helps in hair regrowth. Prevent hair loss
Promotes hair roots, treats dry hair, and repairs damaged hair follicles
Makes hair thick and lustrous
PABA and Paraben free, Mineral Oil-free, and Animal Ingredient free
Suitable for both men and women
100% Cruelty-Free
11. Ancient Living Organic Ashta Dasha Hair Oil (100ml), 580 Rs
Ancient Existence Asta Dasa Hair Oil is a premium blend of eighteen of the most revered ayurvedic herbs that are known to strengthen and moisturize your hair. Astadasa is the Sanskrit word for the number eighteen. This is made in the traditional Ayurvedic method known as Taila Paka Vidhi, which preserves the nutritional value of the herbs.
Ingredients used Jatamansi, Yashtimadhu, Amalaki, Bhringraj, Brahmi, Neeli, Aloe Vera, Japapushpa, Madayantika, Methi, Surabhinimbu, Tulasi, Haritaki, Vibhitaki, Geranium oil, Rosemary oil, Thyme oil, Ylang Ylang oil &Coconut oil.
Another variant of Brahmi & Amla Hair Oil, Hibiscus & Bhringraj Hair Oil is available.
 Features:
100% Organic
For strong and healthy hair roots
Aids in the effective management of stress
Soothes and moisturizes the scalp, promotes hair growth, reduces hair loss, and combats scalp impurities
Helps with Dandruff
Chemical free
12. TAC Red Onion Hair Oil With Black Seed (100ml), 599 Rs
TAC's Onion with Black Seed & Biotin Hair Oil, you can now successfully battle all hair problems. This formula's traditional power source powers its non-sticky, deeply penetrating, and quick-absorbing properties.
Ingredients used Black Seed Oil, Bhringraj Oil, Sunflower Oil, Jojoba Oil, Almond Oil, Amla Oil Extract, Gurhal Oil Extract, Brahmi Oil Extract, Olive Oil, Onion Extract, Natural Vitamin E, Sesame Oil, Castor Oil, Redensyl, Onion Seed Oil, Lime Essential Oil, Ginger Essential Oil, Biotin.
 Features:
100% Natural Hair Oil
Promotes the growth of hair
Prevent hair loss
Brings out natural shine
Reduce split ends
Helps to soften hair
Suitable for both men & women and all types of hairs
100% Cruelty-Free and Vegan
Dermatologically verified
13. Sadhev Anti-Hairfall Oil (75ml), 550 Rs
Sadhev's Anti-Hairfall Oil pays homage to the secret formula of the Chola dynasty. It is a concoction of fantastic plant elements based on Ayurvedic knowledge. It rejuvenates, heals, and restores hair, encouraging hair growth and reducing hair.
Ingredients used Curry Leaves, Bhringraj, Hibiscus Flower, and Amla.
 Features:
Ayurvedic and 100% natural, Vegan, Handpicked ingredients are organically grown and ethically sourced from their very own farm Sadhevana
It prevents hair loss and promotes hair growth
Strengthens the hair follicles and roots, and repairs split ends
Prevents early greying
Natural conditioner
 Cruelty-free, plant-based, and free from Petrochemicals, Parabens, Phthalates, Sulfates, Synthetic Colors, Artificial Fragrances, Additives, and Other Synthetic Substances
14. Vilvah Hair Growth Oil (100ml), 650 Rs
Vilvah Hair Growth Oil is a blend of 100% natural oils used by their elixir to perform its powerful magic on the hair and scalp. Together with the other ingredients, the antioxidant, and nutrient-rich Pumpkin Seed Oil repairs and rejuvenates hair and scalp, encourages healthy hair development, successfully slows the balding process, and reduces hair loss.
Ingredients used Pumpkin Seed Oil, Virgin black seed oil or kalonji oil, Castor Oil, Grapeseed Oil, Almond Oil, Natural Vitamin E, Rosemary Oil, and Peppermint oil.
 Features:
Encourages new hair follicle regeneration and accelerates hair growth
Minimizes excessive hair loss
If used frequently has been shown to increase hair count and thickness after 24 weeks
It is used in the appropriate amount with other miracle oils, to promote the growth of new hair follicles and lessen hair loss
15. Kama Ayurveda Bringadi Intensive Hair Treatment Oil (50ml), 395 Rs
Kama Ayurveda's ancient Ayurvedic method, which combines pure sesame oil and milk with medicinal herbs, is the key to the luscious, lustrous hair of Indians.
Formulated with Indigofera Tinctoria Leaf Extract, Eclipta Prostrata Leaf Extract, Phyllanthus Emblica Fruit Juice, sesame Indicum Seed Oil, Cow's Whole Milk, Cocos Nucifera Fruit Extract, Licorice Powder, Lavandula Hybrida Oil, Rosemarinus Officinalis Leaf Oil.
 Features:
100% Natural
Stop hair loss
Eliminates dandruff
Natural moisturizer
grows hair more quickly
Cooling agent
Prevents infection of the scalp
Free from artificial preservatives,  fragrances, colorants, petrochemicals, sufates
16. Juicy Chemistry Chilli, Horsetail and Black Seed Hair Oil (30ml), 1050 Rs
Juicy Chemistry Chilli, Horsetail & Blackseed Hair Oil is genuinely amazing organic and natural hair oil that promotes fuller, healthier hair while also calming and nourishing the scalp.
Ingredients used Black Seed Oil, Redpepper Seed Oil, Camellia Seed Oil, Horsetail, Pumpkin Seed Oil, Burdock Root, Kakadu Plum Oil, Vitamin E, Helianthus Annuus Seed Oil, Rose Mary Antioxidant Leaf Extract, Clary Sage Oil, Bergamot Oil, Lavender Oil, Geranium Oil, Ylang Ylang Oil, Peppermint Oil. 
 Features:
100% Natural hair Oil
Increase hair growth by 356%
Reduce hair fall by 64%
Suitable for all hair types and texture
Sulfate-free, No Synthetic Fragrance, Cruelty-free and Vegan