Are you looking for Natural Hair Colour

?
You are in the right place! Here is the Best Hair Colour. You get that easily available online.
In India Nowadays colouring of hair became essential and a lifestyle part from an early age to hide grey or white hair. Today's lifestyle is stressful, and unorganized which causes white hair, also increasing age is one of the reasons. Today colouring hair is a fashion. It gives you a new look. 
What's harmful in chemical-based Hair Colour?
The majority of hair colours and dyes contain harmful chemicals that can cause long-term damage to the hair, leaving it dry, brittle, and even unhealthy. So, if you're going to colour your hair, stay away from these harmful ingredients: Sulphates, Resorcinol Peroxide, and Ammonia.
Homemade/DIY Remedies:
First, take 2 spoons of Heena powder in a glass bowl. Mix a little amount of water in it. Make a thick paste of it. Cover the vessel and keep it for 12 hours then add 4 spoons of Indigo powder. Then add warm water to make a thick paste. Apply it with a brush or hand to your hair and keep it for 2-4 hours. Wash the hair with plain water. Do shampoo after 1 day of the application. 
How to use colour for hair:
Powder Mix Hair Color:
Scoop the necessary quantity of the colour mixture into a non-metallic bowl.
Make a smooth mixture that resembles yoghurt by adding boiling hot water. Mix thoroughly to prevent lumps. The mixture should be allowed to cool until it is lukewarm.
With the use of gloves and a brush applicator, apply the mixture to previously washed hair. Be sure to cover your hair completely, including the roots. To get better coverage, separate your hair.
Put a shower cap over your hair and let the mixture sit for at least two hours.
Let your hair air dry after giving it a simple water rinse.
Natural colour can take up to 48 hours to fully develop. For optimal effects, it is advised not to use shampoo until then. Use this organic hair dye once or twice per month, depending on your needs.
Gel Hair Colour:
Pre-shampoo and towel dry your hair.
In a plastic bowl, combine sachets of hair colour powder and an Aloe Orange Gel tube (quantity depends on hair length) with gloved hands.
Apply the mixture evenly to your entire length of hair.
Allow it to rest for 35 minutes.
Rinse thoroughly with warm water and Color Protective Conditioning Shampoo.
Note: To check whether the product is really herbal or not, always check its ingredient on the pack before buying.
1. Vegetal Safe Hair Color - Burgundy (100g), 303 Rs
Vegetal Safe Colour contains herbs and extracts. The tint gives your hair a rich, natural color and provides the greyest hair coverage. It provides complete UV protection and shields hair from sun damage
Soft Black, Dark Brown colors are available.
Ingredients used Indigo, Mehndi, Catechu, Manjistha, Coffee, Shikakai, Amla, Bhangra, and Brahmi.
 Features:
Contains bioactive components that are crucial for healthy hair, scalp, and body
Helps remove dandruff & increase hair growth
Shields your hair from damage caused by dust, debris, and pollutants, UV Rays from the outside
It is devoid of all synthetic materials like PPD, Ammonia, Peroxide, and Paraben.
2. Sesa 3 Step Natural Hair Colour Kit - Black (200g Colour Powder + 20ml Pre-Colour Gel + 20ml Post-Colour Shampoo), 370 Rs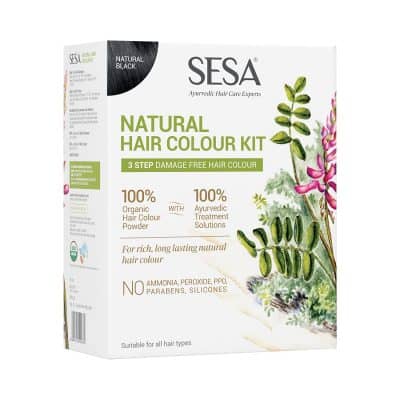 The Sesa 3-Step Natural Hair Color Kit is a first-of-its-kind DIY hair color kit made entirely of natural active ingredients. It is ideal for first greys. It is safe for repeated use and devoid of dangerous substances.
Another variant of its 4-Step Natural Hair Colour Kit for more than 20% grey hair is available.
Ingredients used:
Sesa Organic Hair color powder mix: Indigo Lf. Powder, Heena Leaf powder, Walnut Shell Powder, Coffee Seed powder, Amla Powder, Shikekai Powder, and Aritha Powder.
Sesa Ayurvedic Pre-Colour Treatment Gel- Haldi, Saunth, Lahasun, Kadi Patta, Kaali Mirch, Dalchini.  
Post-Color Treatment Shampoo- Kokam, Gudhal, Ghee Kunwar, Base Q.S. to 100% Preservative: Methylchloroisothiazolinonem, Added Perfume for Fragrance 
 Features:
100% Natural ingredients are used
Ideal for less than 20% grey hair
The kit contains Ayurvedic Pre-Colour Treatment Gel, Organic Hair color powder mix, Post-Color Treatment Shampoo
Free from Ammonia, Peroxide, PPD, Parabens, Silicones, Sulphates
3. Indus Valley Gel Hair Colour - Black 1 (200ml +20g), 485 Rs
Indus Valley Gel Hair color gives your hair a black color using pure, natural ingredients. An innovative herbal formulation containing the enriching and nourishing essence of eight certified organic herbs that not only look but also feel beautiful.
Dark Brown, Medium Brown, Light Brown, Copper Mahogany, and Burgundy, colors are available.
Ingredients used Heena, Amla, Basil, Wheat Germ, Alovera, Sunflower, Jojoba, and Orange.
 Features:
Organic & Vegan
0% growth in the number of greys
Complete coverage of grey hair, no dryness
Moisturizes the scalp and strengthens hair from the roots
Enhances the texture and gloss of hair
The alluring scent of freshly picked oranges
No harsh chemicals in it like Ammonia, Hydrogen Peroxide (Bleach), PPD, Parabens, or Resorcinols
4. Sadhev Natural Hair Colour Single Process - Black (100g), 497 Rs
Sadhev's Natural Hair Color is a dark secret our forefathers toiled over for many nights. The ingredients are manufactured and grown on their farm using 200-year-old ancient wisdom.
Ingredients used Heena, Indigo, and Amla.
Another variant of it is Double Process Hair Color for a higher density of grey and white hair is available. 
 Features:
100% Ayurvedic, safe, vegan, Plant-based, and natural.
It gives the hair a natural black color
Extremely simple to use
It works as a natural hair conditioner
Encourages hair growth
Frizz is reduced
Recommend using the Natural Hair Colour – Single Process once every 10 days for best results
Paraben-free, Sulfate-free, Petrochemical free, Artificial colors-free, Artificial Fragrances, Additives, and Other Synthetic Substances. Cruelty-free
5. Juicy Chemistry Natural Organic Hair Colour in Doppio (Deep Black) (200g), 617 Rs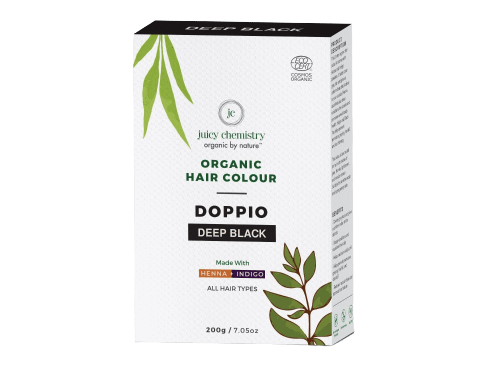 Juicy Chemistry Hair color is a two-step organic hair color kit, It provides your strands a uniform rich black color and aids in hiding grey hair. Additionally, it deeply conditions the hair, encourages good scalp health, and guards against early greying, hair loss, and hair thinning.
Soft Black, Americano-Dark Brown, and Irish-Burgundy colors are available.
Ingredients used Heena Powder, Indigo powder, and Amla Powder, black tea Leaf Powder.
 Features:
100% Plant-based, 0% Ammonia, Handmade
It covers grey hair and gives the strands a uniform color
Deeply nourishes and conditions the scalp
Maintains the pH of the scalp
Prevents premature greying, hair loss, and dandruff
Improves hair texture and restores natural shine
It is safe to use during pregnancy and is suitable for sensitive scalps
This color is best suited for hair with shades of grey, blonde, light brown, and medium brown
If you've previously had your hair chemically treated or colored, it could take up to four applications or more to get the appropriate color. Be patient
Free from, Synthetic Fragrance, Dyes, Sulphates
6. Khadi Natural Herbal Hair Colour - Light Brown Henna (150g), 206 Rs
Khadi Light Brown Herbal Hair Color imparts a light to medium bronze color to the hair. It can be applied to grey hair.
Black, Jaguar Black, Dark Brown, Nut Brown, and Mighty Brown,  colors are available.
Ingredients used Indigo, Henna, Amla, Bhringraj, and Neem.
 Features:
It strengthens hair, making it softer, smoother, and glossy
It provides a fantastic color impression on grey hair, giving it a fresh look in a natural way
It contains no preservatives, color intensifiers, oxidizing agents, or other toxic or hazardous ingredients