Are you looking for the Best organic Shampoo?
You are in the right place! Here is the Best Organic Shampoo in India. You get that easily available online.
Shampooing is essential for good hygiene since it removes extra oils. Our hair receives oils from our sebaceous glands, which create sebum, which causes dandruff and plugs pores, impairing hair development. Shampooing aids in the prevention and reduction of hair loss. Shampoo 2-3 times a week is necessary. Don't wash your hair every day or every alternate day. Natural oils produced by your scalp operate as a barrier against external aggressors such as UV rays, pollution, severe temperatures, and so on. Over-washing your hair can strip away your scalp oils, resulting in significant scalp and hair dryness. Your hair strands may become more prone to breaking and falling out as a result of this.
What's harmful in chemical-based Shampoo?
According to studies, certain chemicals found in shampoo can cause major health problems such as memory loss, eye and skin irritation, hair follicle damage, hair loss, and even cancer.
These harmful chemical ingredients you should avoid in your shampoo: Propylene glycol, Synthetic fragrances, DEA, Sodium Lauryl Sulfate And Sodium Laureth Sulfate, Diethanolamine And Triethanolamine, Cocamidopropyl Betaine, Silicons, Polyethylene, Glycol, Sodium Chloride, Parabens, Formaldehyde, Methylchloroisothiazolinone, Triclosan, Potassium Sorbate, Polysorbate 20, Phthalates
Homemade and Ancient Indian Recipe of Shampoo?
Take an equal amount of Dry Reetha (Soap Nut), Dry Amla, and Dry Shikekai, make powder and store it in an airtight container. It will easily serve you for a year. Keep the jar in the Bathroom. Every time you want to shampoo, just take a small amount of powder in a bowl add little water make a paste and apply it evenly to your hair. You can add more herbal powders to this mixture as per your choice.
You can use buttermilk for shampoo as it is shampoo and condition your hair.
Here's what you need to keep in mind while applying Shampoo/Cleanser:
Apply warm hair oil at night will condition your hair. So your hair will not get dry and freezy after shampoo.
Rinse the hair with water Apply shampoo on the scalp Massage gently into the roots of hair for 2-3 min Wash with water
Note: To check whether the product is really herbal or not, always check its ingredient on the pack before buying.
1. Jeevanras Mukti Gold Hairwash Combo (500 ml)-Pack of - 2, 299 Rs
Continuous use strengthens hair roots, prevents premature greying, reduces dandruff, and improves hair's overall condition. Only apply if you have a specific need.
Formulated with Amla, Harar, Coconut, Shikakai, Nagarmotha, Brahmi, Neem, Bawachi, Amba, Arjun, Bhringraj, Rose, Jamul chal, Bahera, Belpatra, and Reetha.
Features:
100% Herbal Ingredients are used
Repairs the hair quality and helps in rescuing the hair roots
Strengthens hair roots and increases hair volume, resulting in healthy, lustrous hair.
Helps with dandruff and conditions the hair in general
Mukti Gold Hairwash is a WHO GMP, GLP certified
Not contains Salt
Paraben Free
2. Jiva Henna Shampoo (200ml) 165 Rs
Jiva Ayurveda Henna Shampoo is a unique blend of natural ingredient shampoo. Henna and other herbal ingredients cleanse the scalp in this one-of-a-kind formula. Henna imparts a lovely tint to the hair, as well as a glossy appearance and a satiny texture. Lemon is a natural cleanser that eliminates grime and extra oils.
Formulated with Henna, Sat Loban, Khas Khas, Amla, Lemon, Reetha, Japa, and Shikakai, Glycerin, Base of Coconut, Natural Fragrance, Purified Water.
Features:
Made with natural ingredients, this herbal henna hair cleanser nourishes and conditions hair
Cleanses hair thoroughly to remove debris, filth, and excess oils
Provides healthy, voluminous hair with a natural sheen and sparkle
Hair is restored to its natural color and helps to prevent greying
Jiva Ayurveda works in ISO 9001:2015, HACCP, and WHO-GMP-certified facilities to manufacture its own medicines and products.
3. Pavitra+ Hair Loss Control Shampoo (200ml) 275 Rs
Pavitra+ Hair Loss Control Shampoo is designed to stop hair loss and nourish the scalp, promoting the development of new hair follicles. Herbal extracts were used in their formulation for deep hair nutrition.
Formulated with Jatamansi Ext., Brahmi Ext., Amla Ext., Bhringraj Ext., Shikakai Ext., Reetha Ext., Heena Ext., Apple Ext., Pumpkin Seed Oil, Alovera Leaf Ext., Glycerin, Natural Betaine, Aqua, Nasturtium Officinale Ext., Tropaeolum Majus Ext., Vitamin E.
Another variant of it, Men Anti Hair Loss Shampoo is available.
Features:
100% Natural
Deep Nourishing
Strengthens and Softens Roots Hairs
Controls dandruff
Delays Graying
SLS, SLES, Paraben Free 
4. The Organic Forest 10000 MCG Biotin Shampoo (200ml) 395 Rs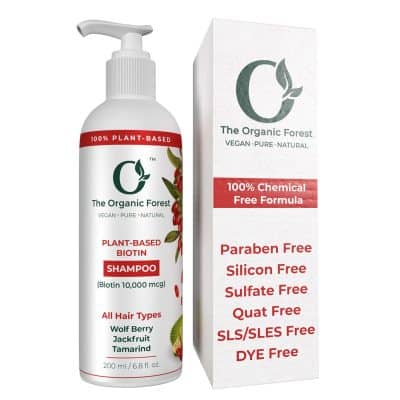 The Organic  Forest Biotin Shampoo makes your hair nourished, smooth, and hydrated. Wolf Berry, Jackfruit, and Tamarind have been included to offer the necessary minerals, vitamins, and antioxidants. Ideal for everyday use. 
Formulated with Aqua, Sodium Cocoyl Isethionate, Sodium Methyl Oleoyl Taurate, Sodium Cocoyl Hydrolyzed Oat Protein, Fructosyl Cocoate, Diheptyl Succinate, Capryloyl Glycerin, Plant Glycerin, Erythritol, Rice Oleoresins, Caprylhydroxamic Acid, Caprylyl Glycol, Jack Fruit Extract, Sesbania Extract, Tamarind Extract, Wolf Berry Extract, Xanthan Gum, Sodium Stearoyl Glutamate, Moringa Oil, Orange Essential Oil, Eucalyptus Essential Oil, Patchouli Essential Oil, Natural Vitamin E, Sodium Gluconate, Citric Acid. (All ingredients are plant-derived).
Features:
Organic ingredients have been added to this Natural and Vegan Shampoo
Your hair will be nourished, smooth, and hydrated after using our new Daily Use Biotin Shampoo
Sesbania Extract (Plant-Based Biotin 10000 mcg) improves volume and strength while preventing hair loss
Ideal for everyday use
There are no animal-derived ingredients in this recipe
Peta vegan and Cruelty-free brand 
Climbazole, Piroctone olamine, and Zinc pyrithione are not present
Free of parabens, silicones, sulfates, chemicals, dyes, SLS, SLES, and quat
BPA-Free Packaging
5. Ancient Living Rejuvenative Shampo (200ml), 423 Rs
Ancient Living Rejuvenative Shampoo is the ideal combination of pure essential oils and ayurvedic herbs. This shampoo removes impurities from your scalp and repairs damaged hair. It revitalizes your hair. It thickens your hair, treats dandruff, stimulates hair growth, and adds shine to your hair.
Formulated with DM water, Aloe Vera, Jojoba oil, Lemon oil, Rosemary oil, Capryliccapric glucoside, coco glucoside, coco amido propyl betaine, Xantham gum, Potassium Sorbate.
Another variant of it, Hydrating Shampoo is available.
Features:
Promote hair growth & thicken hair
Treats dandruff 
It helps add a healthy shine to your hair
Deeply conditions & nourishes hair
Make the hair feel aromatic with its mild aroma
Restore & Maintain natural PH balance of the scalp
Reduce excess sebum & oil

Free of sulfates, Parabens, Silicons, colorants, and artificial fragrances
6. SESA Onion Shampoo with Reetha & Shikakai (300ml), 375 Rs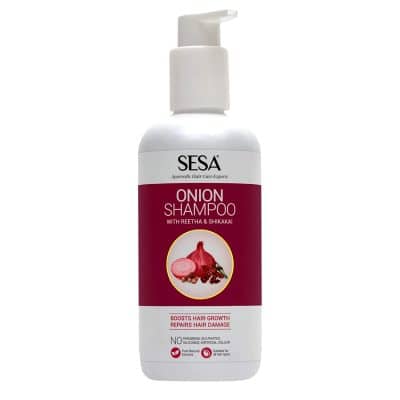 Sesa Onion Shampoo with Reetha & Shikakai is mild shampoo, created using natural onion extracts and well-known Ayurvedic herbs which have long been used as hair cleaners. These natural extracts strengthen hair strands and promote hair growth while reducing hair loss.
Formulated with Aqua, Sodium Lauroyl Sarcosinate, Lauryl Glucoside, Cocoyl Glucoside, Onion Extract, Aloe Vera Extract, Vegetable Glycerin, Polyquaternium-10, Amla Extract, Gudhal Extract, Reetha Extract, Shikakai Extract, Green Tea Extract, Sodium Gluconate, Ethylhexylglycerin And Phenoxyethanol, Fragrance (Essential Oils).
Features:
Ayurvedic shampoo for thick, long hair
The detoxification process aids in removing debris and extra oil buildup
Removes debris from hair follicles and stops the development of dandruff on the scalp
Increases hair growth and aids in reviving damaged hair
Regular application makes your hair feel pliable and smooth
Suitable for both men and women, it is appropriate for all hair types.
Free of parabens, sulfates, silicones, and artificial colors
7. Arata Hydrating Shampoo (300ml), 489 Rs
Arta Shampoo for those with regular to dry scalps, those trying to add volume, and those who want to hydrate and nourish their strands would benefit from this product.
Formulated with Saw Palmetto Extract, Ginkgo Biloba Extract, Ginger Extract, Indian Gooseberry Extract, Lavender  Essential Oil, Clary Sage Essential Oil, Rosemary Essential Oil, Peppermint  Essential Oil, Thyme Essential Oil, Cocobetaine, Sodium Cocoyl Isethionate, Vegetable Glycerin, Guar Gum, Glyceryl Caprylate and Glyceryl Undecylenate, Sodium Gluconate, Heptyl Undecylenate, Aqua Q.S., Citric Acid Q.S.
Another variant of it, Curl Care, Cleansing Shampoo is available.
Features:
Natural extracts used
It has a deep moisturizing action that makes your hair gleam and restores its natural radiance
Boosts scalp circulation
Repair hair damage
GMP Australia certified
Cruelty-free, Toxic Free and Vegan
8. Blue Nectar Anti Hair Fall Shampoo (200ml), 475 Rs
Blue Nectar Shampoo is made with 10 10 Ayurvedic Herbs. These Herbs boost's body natural ability to promote hair growth and makes it healthy, and moist.
Formulated with Raw Honey, Brahmi, Bhringraj, Amla, Henna, Mulethi, Glycerine, Bela, Phenoxy Ethanol.
Features:
Strengthen hair follicles and improves hair growth and reduce hair fall
Provides hair a natural shine, swing, and aroma
Keep hair conditioned, reducing hair breakage, and damage and letting hair stay strong, healthy, and grow longer
Suited for all hair types, for men and women.
Sulfate-free
9. Vilvah Goat Milk Shampoo (200ml), 499 Rs
Vilvah Goat Milk Shampoo contains Goat Milk and Pea Protein. this natural formula creates a rich, creamy lather, reduces frizz and flyaways, also keeps the entire hair shaft moisturized for an extended period of time. You will get healthy, luscious hair, that imparts a beautiful sheen.
Formulated with Aqua, Jasmine flower water, Goatmilk, Disodium Cocoyl Glutamate, Cocamidopropyl Hydroxysultaine, Sodium Lauroyl Sarcosinate, Xanthan Gum, Hydrolyzed Pea Protein, Potassium Sorbate, and Sodium Benzoate, Lemon Peel Oil, Jasmine Oil, Peru Balsam Oil, Ethylene Glycol Mono Stearate, Sodium Hydroxide, Sodium Gluconate 
Features:
A pH-balanced, gentle formulation effectively cleans the hair and scalp
 Maintain a healthy scalp condition balance
 Increases volume and luster while keeping hair soft and manageable
Clinically proved Pea Protein adds more moisture than any other moisturizing shampoo, while Goat milk soothes and treats eczema, psoriasis, and other scalp disorders
Suitable for all hair types. Great for dry, damaged, and frizzy hair
Dermatologically evaluated and certified as non-irritating to the skin
No harsh chemicals, No synthetic fragrance, No mineral oils, No phthalates, No silicones, No parabens, No Sulfates, No DEA/MEA, No PEGs, and No animal testing
10. Aegte Growlong Rice Shampoo (250ml), 499 Rs
Aegte Growlong Rice Hair Shampoo is made with natural ingredients and is carefully formulated for your tresses. This natural shampoo adds volume to your tresses while also preventing hair loss and dandruff.
Formulated with Aqua, Rosemary, Keratin, Hydrolyzed Wheat Protein, Amla, Rice water, Gotoula extract, Olive oil, Hibiouss extract, Banana peel, silk protein extract, Flaxseed, Grape seed extract, Reetha Extract, Shikakai Extract, Ginger extract, onion extract, Bhringraj Extract, Biotin, Curry Leaf, Terfala extract, Rosemary leaf extract.
Features:
Made with the herbal components
There are no hazardous substances in it
It's free of sulfates and parabens, and it's suited for all hair types
It's Vegan
Suitable for all hair types
11. Anthi: Anti-Hair Thinning Shampoo (100ml), 426 Rs
Anthi Shampoo is a cutting-edge treatment option to combat hair-thinning symptoms. This unique blend is the first step in an anti-thinning hair care regimen with natural nutritional components. The shampoo has a pleasant smell without making your scalp greasy thanks to a mild blend of 15 plant-derived ingredients and pure essential oils.
Ingredient used Aloe vera, Green Tea, Nettle, Sage, Chamomile, Henna, Pea Protein, Birch, Common Hop, Horsetail, Burdock, Millet, Linden, Rosemary &  Lavender essential oil. In addition, the anti-thinning shampoo is fortified with potent vitamins and minerals like Biotin, vitamin B5, Niacin, Zinc PCA, and natural conditioning ingredients like Guar gum. 
Features:
Promotes hair thickness
Increases the volume of hair & decreases hair loss
Moisturises and hydrates the scalp
Free from SLS/SLES (Sulphates), Silicones, parabens, phthalates, synthetic fragrances, and artificial colors
12. Forest Essentials Japaptti & Brahmi Hair Cleanser (50ml), 375 Rs
The Bhringraj and Shikakai Hair Cleanser from Forest Essentials is an excellent remedy for hair thinning, breakage, and regrowth. Bhringraj promotes hair development while also reducing hair loss. Micronutrients in Shikakai infusion and Liquorice aid to reduce dandruff.
Formulated with Reetha Fruit Infusion, Hibiscus Flower Extract, Brahmi Infusion, Jatamansi Extract, Nagarmotha Extract, Tulsi Extract, Flaxseed Oil, Olive Oil, Black Sesame Seed Oil, Lemon Juice.
Features:
This powerful Ayurvedic formula effectively cleanses the scalp and hair while leaving the natural oils intact
It feeds the scalp to prevent hair thinning and breakage while also encouraging new hair growth
It calms the scalp and helps to reduce dandruff
Chemicals, parabens, and petrochemicals are not present
Packaging that is environmentally friendly
13. Daughter Earth The Shampoo (250ml), 925 Rs
Daughter Earth Shampoo foams into a velvety lather that softly lifts debris accumulation from the scalp without drying it out, promoting a healthy scalp microbiome and hair development. The hair is given more volume and luster. With each usage, hair becomes simpler to manage, shinier, and healthier.
It contains Lauryl Glucoside, Aqua, Coco-Glucoside, Cocamidopropyl Betaine, Glycerin, Aloe Barbadensis Leaf Juice, Coconut Oil, Shea Butter, Guar Hydroxypropyltrimonium Chloride, Glycol Stearate, Basil Extract, Phenoxyethanol, Caprylyl Glycol, Sacha Inchi Seed Oil, Chenopodium Quinoa Seed Extract, Purple Rice Extract, Lemongrass Oil, Orange Peel Oil, Rose Flower Extract.
Features:
This shampoo is made with plant-based components and is vegan, gluten-free, silicone-free, sulfate-free, artificial color-free, and artificial fragrance-free
Shampoo that washes the scalp and hair softly
Quinoa and rice are added for extra nutrition
Hair is thoroughly cleansed without causing the scalp to become dry
Makes hair silky and promotes healthy hair growth
It aids in the nourishment and moisturization of dry hair
It strengthens and nourishes the hair
Improves blood circulation and stimulates the scalp
14. Plantas Organic Hair Fall Shampoo (200ml), 995 Rs
Plantas Organic Shampoo strengthens hair strength and prevents hair fall, making hair smooth and lustrous.
It contains Bhringraj, Henna, Methi, Shikakai, Purified Water, Lauryl Glucoside, Decyl Glucoside, Jatamansi extract, Glycerin, Grape Seed Extract, Virgin Argan Oil, Golden Jojoba Oil.
Features:
100% Natural Origin of the total. 98.2% of the total ingredients are from organic farming
Strengthens hair strength and prevents hair fall
Making hair smooth and lustrous
Vegan, GMO-free, No artificial color & Fragrance, Paraben free, Sulfate free, Mineral free, Phthalate free, No artificial preservative, Cruelty-free, Eco-friendly packaging
15. Sadhev - Ayurvedic Shampoo - Coconut & Hibiscus (200ml), 1200 Rs
Sadhev's Ayurvedic Shampoo is a blend of amazing botanical ingredients rooted in Ayurvedic wisdom. It nourishes, rejuvenates, and repairs hair, making it appear visibly fuller and giving it a seductive sheen.
It contains Bhringraj, Hibiscus Flower, Currey leaves, and Amla.
Features:
Ayurvedic and natural, handpicked ingredients are organically grown and ethically sourced from their very own farm Sadhevana
Repairs dead skin cells
Reduces hair loss
Boosts the growth of new hair
Wholesome conditioner
Reinforces hair follicles
Sulfate-free, Paraben free, No Artificial Colors, Cruelty-free and Vegan